Caustic fracking chemical spills in San Antonio train derailment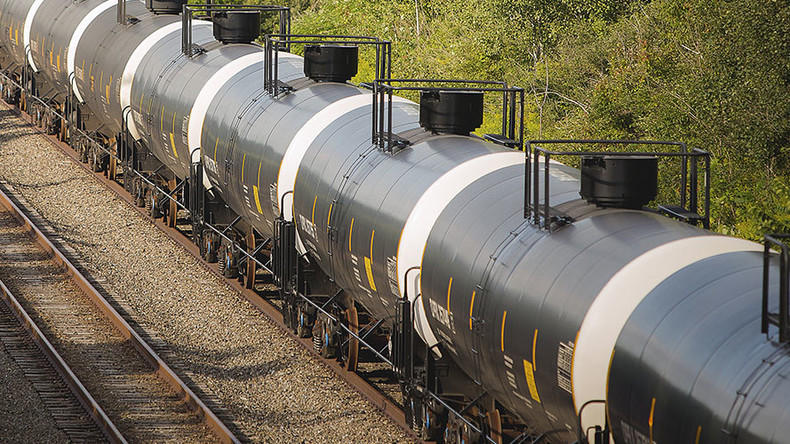 A derailed train has spilled approximately 1,000 gallons of sodium hydroxide in San Antonio, Texas, according to reports. The train was carrying 60,000 gallons of the poisonous, highly-corrosive chemical. A nearby area was temporarily evacuated.
Five train cars overturned on Sunday afternoon, according to the San Antonio Express-News, near the intersection of Loop 410 and Interstate 35. As many as 6,000 people were evacuated from Traders Village, a large flea market and carnival area just south of Lackland Air Force Base.
The Bexar County Sheriff's Department said the spill did not result in fumes or residue in the area. In addition to the sheriff's office, first responders, fire crews, and Union Pacific railroad were on the scene, KSAT reported.
"Once the team on sight realized the spill was very minimal and that the substance itself did not pose any immediate threat, that evacuation was cancelled," sheriff's department spokesperson Monica Ramos said.
Sodium hydroxide, also known as caustic soda or lye, is a common ingredient in household products such as drain cleaners. It is also used in oil refining and hydraulic fracturing, or fracking. The substance is harmful if ingested, inhaled, or touches skin. Contact with sodium hydroxide can result in sever burns, as well as vomiting, diarrhea, chest pain, and difficulty swallowing.
The train and the land at Fischer and Quintana Roads on which it derailed is owned by "Schumberger," according to the Express-News, likely referring to Sclumberger Limited, a major oil services and drilling company in the area. A photo tweeted by KENS reporter Alicia Neaves indicated that Schlumberger was responsible for the chemical spill.
Two men in the tugger train car were injured and treated at the scene, Ramos added.
The derailment remains under investigation, according to the sheriff's department.
An "environmental group" is in charge of cleaning the spill, according to authorities.
"Currently we have an environmental group on scene, is remediating it and taking care of the spill itself," Ramos said. "At no time was there any danger or anything like that."