'Sharktivity' app launched to detect great whites swimming off coast of Cape Cod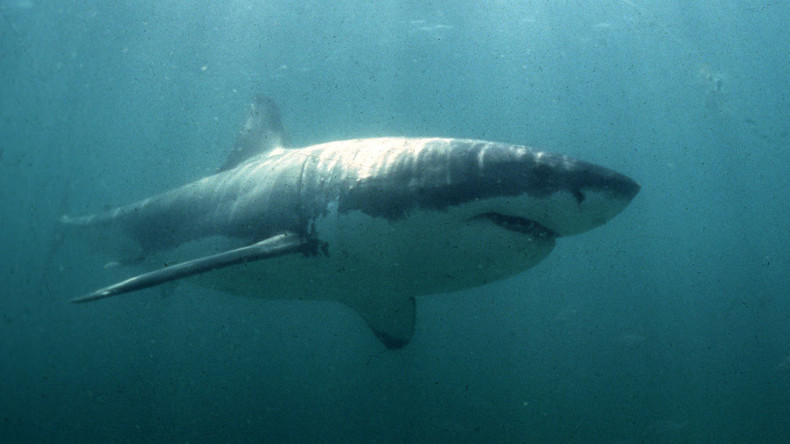 As Americans hit the beach to celebrate the fourth of July holiday weekend, bathers at Cape Cod will be able to learn of any great white sharks lurking underwater in the area with a new smartphone app that tracks the movement of the deadly predators.
The app in question, "Sharktivity," lets members of the public report sightings or encounters with sharks and can be downloaded by iPhone users. Developed by the Atlantic White Shark Conservancy, a non-profit group in Chatham, Massachusetts that works with biologists, it also shows where great whites that have been previously tagged are located.
"This app will be yet another tool to raise awareness and provide the public with information on white shark activity across the East Coast," Cynthia Wigren of the Atlantic White Shark Conservancy said, as cited by the Boston Globe.
First white shark off Cape Cod in 2016 spotted! Dr. Skomal, AWSC, & spotter pilot Wayne Davis captured these photos. pic.twitter.com/ueQ1Pupu37

— Atlantic White Shark (@A_WhiteShark) June 20, 2016
However, she added that the team hopes to use the app to change the public's attitude towards great whites, which have for decades been synonymous with the Jaws films.
"A big part of what the organization does is to work to try and change public perception by supplying them with fact based information and we're gathering that information by funding the science," Wigren said.
The app can send out alerts to those going to the beach, warning them of any great whites in the area, as the shark season is in full swing.
Wigren added that the app is not just for those looking to find or avoid sharks off Cape Cod, as it can be used anywhere along the US coast and she believes it will not be hard to get the word out about the new app.
Last summer, lifeguards at Surfside Beach in California used miniature drones to detect sharks. If they found sharks that were showing aggressive behavior, they would close the beaches to the public to prevent any accidents.
"If we get bigger sharks or we get sharks that are aggressive, we're actually going to close the water. But right now, we have sharks that are 5- to 6-feet long, non-aggressive, acting like normal sharks, feeding on bottom fish, doing exactly what we would expect them to do," Chief Joe Bailey, a Seal Beach lifeguard, told CBS Los Angeles. "That's why we have it posted just to let people know that they are there."
You can share this story on social media: