Florida declares state of emergency over 'guacamole-thick' algae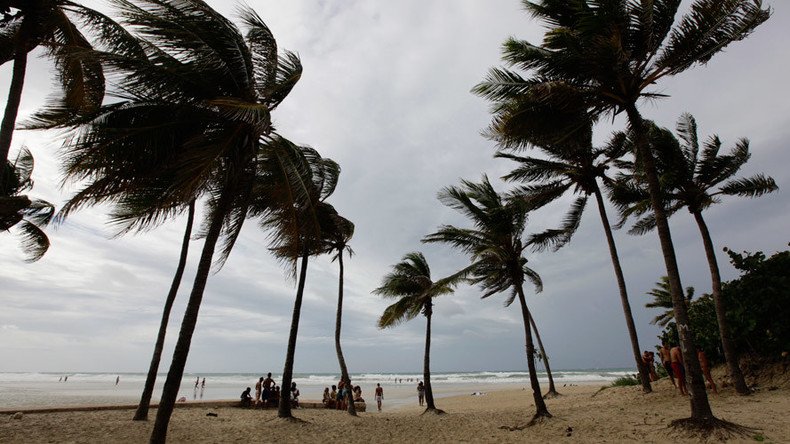 Renowned for its turquoise-colored waters, Florida declared a state of emergency as a blue-green algae outbreak caused miles of waterways and beaches to be swamped in a toxic soup that caused skin rashes and drew concern for the fate of marine animals.
US Senator Marco Rubio (R-Florida) called on President Barack Obama to declare a state of emergency to help businesses harmed by the algae bloom in Florida's southern rivers and beaches.
"I hope the president will have an emergency declaration, because that will open up the full portfolio of aid that the federal government can provide local businesses and communities that are being impacted by this," Rubio said, the Associated Press reported.
Rubio's announcement comes after Florida Governor Rick Scott declared a state of emergency in St. Lucie and Martin counties over the algae problem and as local politicians and residents blame the federal government. Scott added two more counties, Lee and Palm Beach, to the emergency declaration on Thursday.
"I would describe them as guacamole-thick. And it stinks," Gabriella Ferraro, spokeswoman for Martin County said, AP reported.
The US Army Corps of Engineers regularly pumps water east and west of Lake Okeechobee, the state's largest freshwater lake, to relieve pressure on the lake's aging dike. They said they would reduce the pumping during the crisis.
The algae bloom was triggered by high rainfall, high temperatures and nutrient-rich water. The area saw a similar crisis in 2005, but not the size of this latest one.
Algae samples from the lake taken earlier this month found levels of toxins 20 times higher than a safety threshold set by the World Health Organization.
"The smell is so bad it will make you gag," said Martin County resident Mary Radabaugh at an emergency meeting, reported the Guardian. "We have red eyes and scratchy throats. We can smell it in our office. It's terrible."
Other residents complained of skin rashes from the bloom. The Florida Department of Environmental Protection is telling people to steer clear of discolored water and not to use it to water their lawns. Other potential health concerns include vomiting and respiratory problems.
There are also fears for the local marine life, such as manatees, which graze on seagrasses in the estuary area, and sea turtles that could be killed off by the toxins. The flat wetlands of south Florida have been extensively re-engineered with canals and man-made lakes, radically altering the natural flow of fresh water.
Deborah Drum, manager of ecosystem restoration at Martin County, told the Guardian a rethink was needed in a region particularly vulnerable to rising temperatures, sea level rise and invasive species.
"Maybe some of the decisions that were made in the past could be done differently in the future," she said. "All levels of government have a responsibility to create a sustainable path forward. It would be a mistake to use the same thinking that got us into this situation."
You can share this story on social media: