Zika virus: 3 more US babies born with birth defects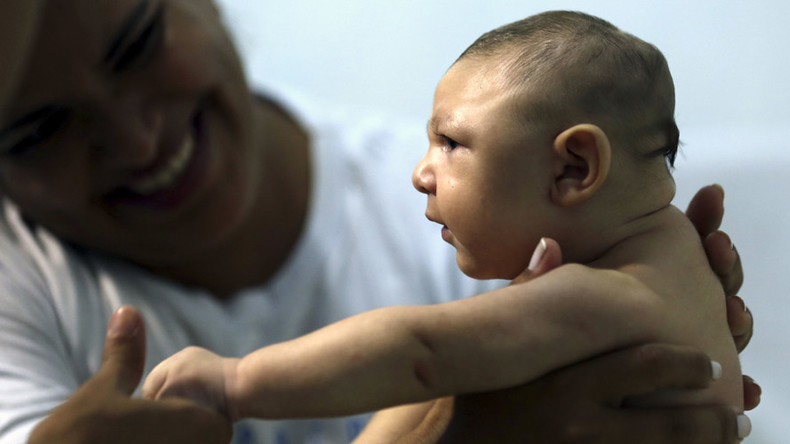 The Centers for Disease Control and Prevention have confirmed that three more American babies have been born with birth defects likely linked to Zika virus infections. The agency also said another lost pregnancy was linked to the virus.
According to the health agency's online Zika pregnancies registry, that brings the total to seven babies with microcephaly born in the US, and five lost pregnancies either from miscarriage, stillbirth or termination as of June 23.
The registry compiles laboratory evidence of possible Zika infection from all 50 states and the District of Columbia.
Zika has caused alarm throughout the Americas since numerous cases of the birth defect microcephaly, linked to the mosquito-borne virus Zika, was reported in Brazil, the country hardest hit by the current outbreak. The rare birth defect is marked by unusually small head size and potentially severe developmental problems. More than 1,400 cases of microcephaly in babies have been confirmed in Brazil.
"The poor birth outcomes reported include those that have been detected in infants infected with Zika before or during birth, including microcephaly (unusually small head size and severe developmental problems), excess fluid in the brain cavities and surrounding the brain, absent or poorly formed brain structures… or other problems resulting from damage to the brain that affects nerves, muscles and bones such a clubfoot or inflexible joints," the CDC said in a statement.
More than 900 Zika cases in the US reported so far have all involved people who contracted the virus outside the country in areas with active Zika outbreaks, or otherwise were infected through unprotected sex with an infected partner.
There have not yet been any cases reported of local transmission of the virus in the US, but health experts expect local transmission to occur with the onset of mosquito season, especially in Gulf Coast states such as Florida and Texas.
The CDC plans to issue updated reports each Thursday to ensure that information about pregnancy outcomes linked with the Zika virus is publicly available.
The issue of providing funding to counter the Zika virus is ongoing in Congress, which is currently in disagreement. Republicans presented a bill earlier this week to propose $1.1 billion in funding, including efforts to develop a vaccine. The bill's spending would have been offset by $750 million in savings from unused Ebola funding, cuts to administrative funding at the US Department of Health and Human Services and unused money for healthcare exchanges within the Affordable Care Act.
The bill failed Tuesday in a nearly clean party-line vote of 52-48, falling short of 60 votes necessary for passage. Democrats said they could not support the measure, because it was chock full of unrelated measures and funding restrictions for reproductive health, including limits to funding for healthcare providers of birth control, as well as weakened standards for pesticide use near water sources.
The White House and Democrats have backed a proposal that would offer $1.9 billion to fight Zika. President Barack Obama said he would veto the Republican funding plan. Republicans accused Democrats for playing politics in the face of a dangerous virus.