She's not president yet! Hillary Clinton gets monument in Albania (VIDEO)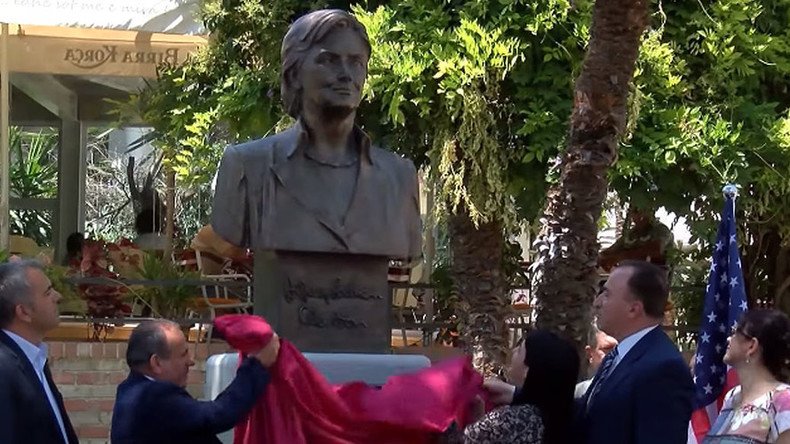 US presidential elections are still months away, but a city in Albania has already erected a monument to Hillary Clinton. Another Albanian city already has a statue of George W. Bush, while Bill Clinton was honored by a statue in Albanian-held Kosovo.
A bust of Hillary Clinton was unveiled Thursday in Sarandë, a tourist town of some 20,000 people in southern Albania. The monument is intended to represent Clinton "as a woman in politics, as a representative of the old Albania-US friendship, for her contribution to the Albanian nation in different historical moments," the city authorities said, according to AP.
The monument was a way of thanking the "American people and government for what they have done for the Albanian people and nation," said Florjana Koka, mayor of Sarandë, specifically citing Clinton's involvement with the Albanian community in the US, and her advocacy on behalf of ethnic Albanians in the Serbian province of Kosovo.
"Clinton gives us the model of women in politics, diplomacy and governing at the most democratic country in the world," said Koka.
NATO bombed the then-Yugoslavia for 78 days in 1999, claiming the Yugoslav security forces were committing "genocide" against the Albanians in Kosovo. Up to 14,000 people were killed in the conflict. In June 1999, the province was occupied by a NATO-dominated peacekeeping force and turned over to ethnic Albanian separatists, who declared independence from Serbia in 2008. One political faction continues to advocate the establishment of what they call "Natural Albania," to include more Serbian territory as well as parts of Greece, Montenegro and Macedonia.
"Albanians wherever they are, will be grateful to the Clinton family and the American people," said Agim Shahini, leader of the Business Alliance of Kosovo, who was at the ceremony in Sarandë.
The monument features Clinton's signature, in cursive relief, and a dedication from the "Diplomatic Mission Peace and Prosperity," an Albanian-centered international lobbying organization created by former US diplomat Richard Holbrooke in the late 1990s.
This is not the first time the Albanians have honored the Clintons. A gilded statue of Bill Clinton, dedicated in November 2009, overlooks the Bill Clinton Boulevard in Pristina, the capital of Kosovo.
Former US President George W. Bush also has a statue; the monument in Fushë-Krujë, in Albania proper, was erected in 2011 to mark his 2007 visit.
Statues to US presidents can be found in many corners of the world. Rutherford B. Hayes (1877-81) is popular in Paraguay. Abraham Lincoln (1861-65) has multiple monuments in Mexico and one in Cuba. A statue of Harry Truman (1945-53) is a popular spot in Athens, Greece, while Dwight Eisenhower (1953-61) stands guard outside the US Embassy in London. There is even a fire-spewing statue of President Barack Obama in China – and a controversial monument to Obama as a boy in Jakarta, Indonesia, erected in 2010.
Clinton's statue in Sarandë may well be the first and only monument to a US presidential candidate, however.
You can share this story on social media: