Giant heads of state: Virginian graveyard for weather beaten US president statues (VIDEO)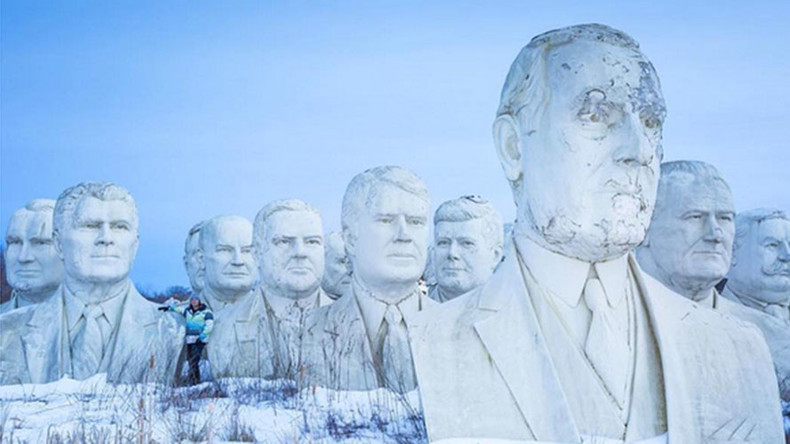 Cold as stone, the bludgeoned and cracked skulls of 43 US presidents on a Virginian farm are not part of some bizarre crime scene, but the last remaining remnants of a presidential theme park that failed to attract the masses.
The giant, 20 foot busts of American leaders were once part of the ill-fated Presidential Park in Williamsburg, which closed in 2010 due to dwindling visitor numbers after six years in the tourist attraction game.
Houston artist David Adickes created the stone pieces to look like the Mount Rushmore carvings, report Smithsonian.com.
The 10 tonne works ended up becoming the main focal point of the $10 million tourist park which set up shop in 2004.
Drone footage of the statues show the sculptures have fallen into disrepair. Dwight D Eisenhower, the 32nd president of the US, has much of his cranium missing.
Abraham Lincoln looks like gunman John Wilkes Booth has returned to put another bullet in the back of his head, while George Washington appears to have fallen victim to acid rain.
Much of the damage was apparently done in moving each head from the bankrupt park to fields owned by statue-saviour Howard Hankins.
In an interview with Dcist.com, the Virginia resident said he was asked to destroy the unusual pieces of artwork after the closure in Williamsburg.
"I said 'heck no, can I have 'em? I'm going to preserve them'."
A GoFundMe page has since been set up by the Williamsburg Presidential Museum Project with the hope of bringing the stone presidents back from the dead.
The group are asking people to donate money towards repairs and new attractions like 44th president Barack Obama, an Air Force One relic and presidential limo.
"The plan is to open a new museum and relocate these statues to a place where they can be seen by all. They need a new home that will draw in a larger crowd and help educate everyone about the lives of our great presidents," the GoFundMe page states.
"Travel and Mother Nature have taken a toll on these busts, all of which can be repaired. Even in their darkest hour these busts are truly magnificent to see. One could only imagine how grand they will be when they are restored and moved to the right location."
Photos by David Ogden on Instagram provide a closer glimpse of the somewhat macabre effigies.
In keeping with his death, Abraham Lincoln sports a gaping hole in his head - the result of a crane reaching into his skull during transportation.