Clinton cash: Pro-Hillary group took $200k in illegal donations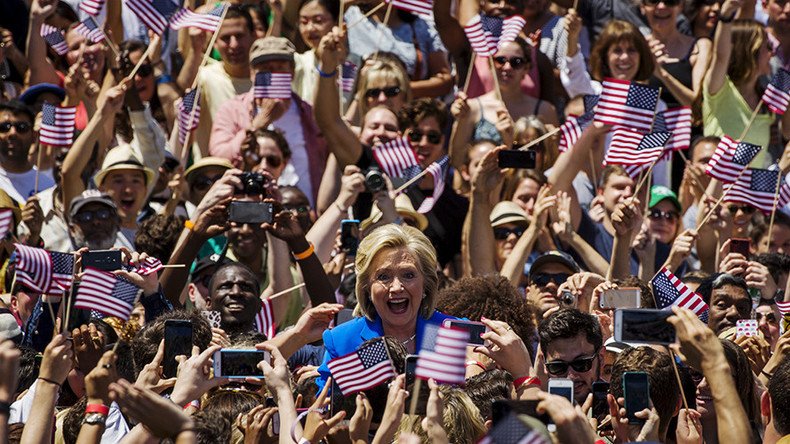 One federal contractor has donated $200,000 to a super-PAC backing Democratic presidential candidate Hillary Clinton, in clear violation of a 1971 law banning such contributions. Donald Trump may also be in trouble for soliciting funds from foreigners.
Priorities USA, a super-PAC backing the presumptive Democratic nominee, received two donations of $100,000 each from Suffolk Construction, The Hill reported Wednesday. The Boston-based company had multiple contracts with the federal government at the time, making the donations illegal under a 1971 law.
A search of USASpending.gov found $976,560 worth of contracts between Suffolk Construction and the Department of Defense, for construction and maintenance projects at the US Military Academy in West Point, New York and a US Navy base in Newport, Rhode Island, The Hill reported. In 2015, the company also donated $10,000 to Right to Rise, a super-PAC that supported Jeb Bush's presidential bid on the Republican side.
Suffolk Construction has annual revenue of $2 billion, and has received $169.7 million in federal contracts since 2008, The Hill reported, noting that the company declined multiple requests for comment.
The Hill found 14 other federal contractors that have contributed a total of $173,250 to Right to Rise, while two also donated to Conservative Solutions PAC, a group that backed Florida Senator Marco Rubio's Republican presidential bid. Both Bush and Rubio had dropped out of the race by mid-March.
Federal law is very clear on the subject. According to Section 441C of the US Code, also known as the Federal Elections Campaign Act, "It shall be unlawful for any person… who enters into any contract with the United States or any department or agency thereof … to make any contribution of money or other things of value, or to promise expressly or impliedly to make any such contribution to any political party, committee, or candidate for public office or to any person for any political purpose or use."
However, the Federal Election Commission (FEC) has not bothered to penalize violators for years, Craig Holman, of the advocacy group Public Citizen, told The Hill.
"Contractors now may circumvent the law either by creating an artificial division within the company for the purpose of making contributions, or even not bother with such machinations and make direct contributions, and can still feel assured they will not be prosecuted by a deadlocked FEC for violating the law," Holman said.
The US Court of Appeals for the District of Columbia rejected a challenge to the law in 2015, on grounds that the ban was a necessary protection against corruption in politics.
"The statute was itself the outgrowth of a decades-long congressional effort to prevent corruption and ensure the merit-based administration of the national government," wrote Chief Judge Merrick Garland, who is now President Barack Obama's nominee to fill the vacancy on the US Supreme Court.
Super-PACs are technically known as "independent expenditure-only committees," and are allowed to raise and spend unlimited sums of money to openly advocate for or against political candidates. However, they cannot donate the money to the candidate directly, or coordinate their spending with them.
While The Hill made no mention of improper contractor donations to the presumptive Republican nominee Donald Trump, the billionaire businessman may be in a different kind of campaign funding trouble. Though Trump has financed his presidential bid mostly out of pocket so far, earlier this month he sent out the first email soliciting campaign contributions – apparently, without checking the list.
Among the recipients of the email were two parliamentarians from Iceland, a Nordic European island nation. Both the conservative Guðlaugur Þór Þórðarson and leftist Katrín Jakobsdóttir told Iceland Magazine the solicitation had them perplexed. The incident suggests that Trump's campaign is either reaching out to foreign donors – which US law prohibits – or investing in some questionable email databases.
You can share this story on social media: