Bernie-backed #Occupy activist wins landslide in NY congressional primary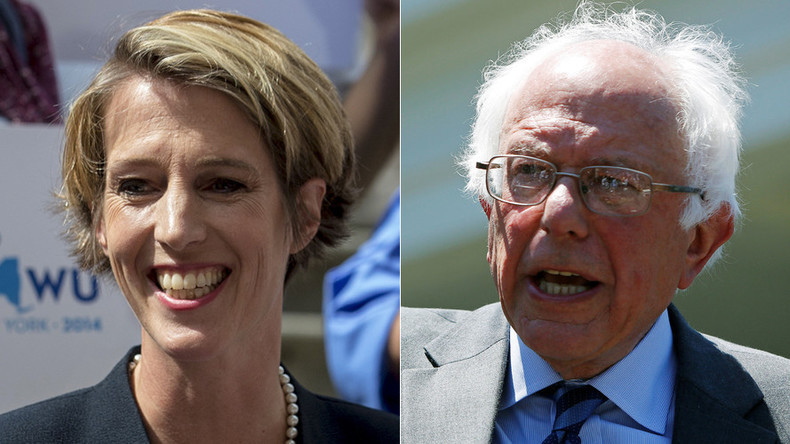 #Occupy activist Zephyr Teachout has become the first of what could be many candidates backed by presidential candidate Bernie Sanders to win a Democratic primary, after a landslide victory for the 19th congressional district in New York.
She comfortably defeated Will Yandik on her path to take the seat held by a Republican since 2010.
Teachout, a law professor who lectures on corruption and corporate power, now looks set to face Republican and former member of the New York state Assembly John Faso in a showdown for Congress. Victory would place Teachout in the seat that's been occupied by Republican Chris Gibson since 2012.
In a statement following her victory Tuesday, Teachout cemented her stance against big business distorting politics, telling her supporters "Together we're going to take back our democracy from the powerful interests and lobbyists who want to keep us out."
"The best defense against big money is people, and when we come together, we can have clean water, good jobs, strong communities and a government of, by and for the people," she said.
In April, the campaign for Democratic presidential candidate Sanders included Teachout amongst a list of district candidates that he appealed to donors for funding.
The candidate, who gained prominence in her failed New York gubernatorial campaign of 2014, shares a number of positions with Sanders on issues including opposition to the Trans-Pacific Partnership and forcing Congress members to wait several years before becoming lobbyists.
Similar to Sanders, most of her campaign contributions come from small donors, with the average contribution totalling less than $50. In the first three months of the campaign she raised more money than any other candidate in the state of New York, including Republicans.
Voters in the 19th district had leaned towards the Democrats, electing Obama in both his 2008 and 2012 presidential campaigns. Yet during his first term, in 2010, the House seat was lost by Democrat John J Hall with Republican Nan Hayworth elected in the district.
Sanders also endorsed Washington's 7th district candidate Pramila Jayapal and Nevada's 4th district candidate Lucy Flores. Earlier this month Flores lost to Ruben Kihuen, a member of the Nevada state senate endorsed by Hillary Clinton.
In New York's 24th district Sanders-backed Eric Kingson did not have Teachout's success on Tuesday, losing to Colleen Deacon despite an appearance by Sanders at a campaign rally.
Deacon, who had the backing of both of the state's senators, will now face Republican incumbent John Katko.
#NY24 (D): In Onondaga Co (SYR), ex-Gillibrand aide Colleen Deacon has 51% vs 29% for Eric Kingson, backed by Sanders. Schumer backed Deacon

— Greg Giroux (@greggiroux) June 29, 2016
Sanders, who has not conceded defeat to Hillary Clinton in his bid for the Democratic nomination, said last week that he would vote for her if it meant defeating Republican candidate Donald Trump.
READ MORE: Bernie says he'd vote for Hillary in November, do everything to defeat Trump
In Nebraska, Jane Klebb was elected chairwoman of the state Democratic Party with the support of Sanders.
Speaking to RT she said she "Sanders was pushing the party to the progressive left where it should have been years ago."