Judge in Brock Turner sex assault case issues harsher sentence to immigrant in similar case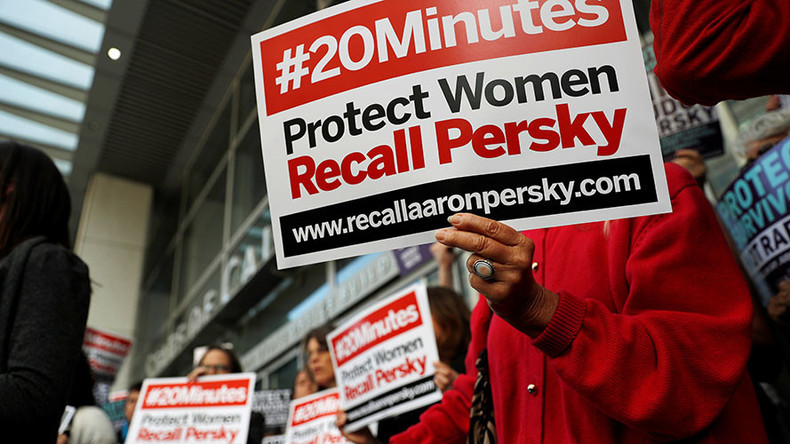 The California judge who sentenced Brock Turner to just six months' jail time for sexual assault is about to hand down a far harsher sentence of three years to an El Salvadorian immigrant for a similar offense.
The case involves Raul Ramirez, who pleaded guilty in March to felony sexual penetration by force when he penetrated his female roommate with his fingers for five to 10 minutes in November 2014, only stopping when the woman broke down crying.
Santa Clara County Superior Court Judge Aaron Persky is about to hand down a three-year prison sentence to Ramirez, according to documents obtained by The Guardian.
Sexual assault cases in California can carry sentences of up to 14 years, but the Ramirez case is drawing sharp parallels to the Stanford sexual assault case, over which Judge Persky also presided and which resulted in a more lenient sentence.
In that case, former Stanford University swimmer Brock Turner was sentenced to six months' confinement in Santa Clara County jail, to be followed by three years of probation, for sexually assaulting an unconscious, intoxicated woman in January 2015. Turner was discovered on top of the woman behind a dumpster by two students. The discovery caused the 20-year-old perpetrator to run before he was captured by the students, and the police were alerted.
Judge Persky sentenced Turner to just six months in prison and claimed that a longer sentence would have a "severe impact" on the college athlete's future. The Associated Press later reported that Turner was like to only serve three months of his term for good behavior.
The Stanford case made national headlines after the victim, an unidentified 23-year-old woman, wrote a powerful and emotional letter to Turner, which she read aloud in court. Turner's outraged father later submitted a letter to the judge, insisting that his son's sentence "is a steep price to pay for 20 minutes of action."
Ramirez's case did not make similar headlines, but like Turner, he did not have a criminal record. Strangely, his $200,000 bail was set $50,000 higher than Turner's.
One of Ramirez's lawyers told the Guardian the only difference in the two cases was that Ramirez's victim was conscious during the attack and under California law is treated as a more serious offense.
The Turner case caused a national outcry with an online petition of 1.2 million people calling for Judge Persky to be fired.
There is another caveat to the Turner case. He will have to register as a sex offender for the rest of his life, and will have to participate in a sex offender rehabilitation. Since his conviction, he has also been banned from competing in American swimming competitions.
Despite long sentences for sexual assaults on the books, courts are increasingly handing out shorter sentences in sexual assault cases or not even convicting.
In another case, former Indiana University student John Enochs, who was charged with raping two women, will get just a year of probation and one day in jail as part of a plea deal, according to WXIN. Enochs pleaded guilty to misdemeanor battery.
The Enochs case involved a woman who said in April 2015 she was at party at a fraternity at Indiana University when she went inside to use the restroom. She said the next thing she remembers was being naked and alone with an unknown man having sex with her. She said she told him to stop multiple times, but he refused. She suffered a laceration to her genitals in the attack.
Police officials said security video showed Enochs enter the room with the victim and leave 24 minutes later. Police found a similar case from 2013 involving Enochs, and with the latest victim's account, DNA evidence and eyewitness statements and identification by the two women, police were able to charge Enochs with two rape charges in September 2015.