'Firefight of epic proportions': California wildfire kills 2, forcing thousands to flee homes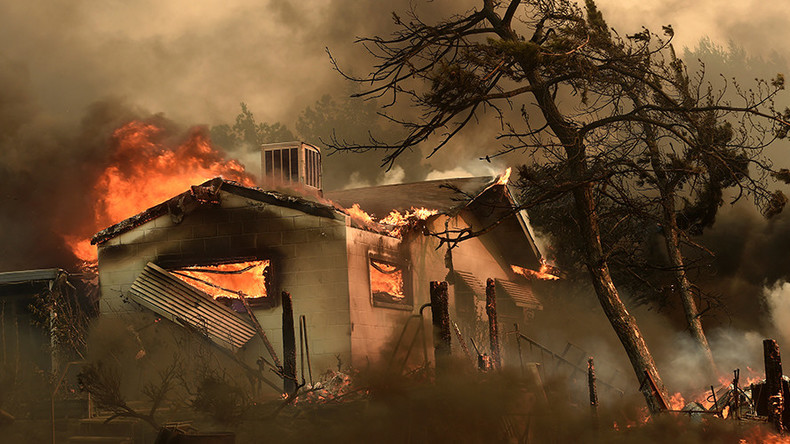 A furious wildfire has ripped through an area of California, killing an elderly couple as they tried to flee from the deadly flames. At least 80 houses have been destroyed in southern Sierra Nevada, with strong winds fanning the flames further.
Kern County Sheriff, Donny Youngblood, told reporters that at least two people were confirmed to have been killed in the inferno, warning that more victims could be found.
Up to 800 firefighters struggled against the so-called Erskine Fire, which broke out on Thursday in the foothills of Kern County. It roared through sun-drenched trees in the mountains of central California and eventually went out of control. On Friday, local authorities told over 3,000 residents in Lake Isabella to be prepared to evacuate, Reuters reported.
"The forces of nature collided with a spark," Kern County Fire Chief, Brian Marshall, told a news conference on Friday. "The mountainous terrain, five years of drought and wind gusts of over 20mph all drove a fire over 11 miles in 13 hours.
Our firefighters have been engaged in a firefight of epic proportions, trying to save every structure possible," he added.
California Governor Jerry Brown has declared a state of emergency in Kern County. Just five percent of the fire had been contained by Friday evening. Cellphone service was reportedly cut off in many areas, flaring up anxieties.
Propane tanks exploded, forcing thousands of people to flee from flames spreading quickly in the dry weather, with heavy smoke obscuring the path to safety.
"It was to the point you couldn't see, you couldn't breathe," Cachet Kirby of Mount Mesa told AP.
Dramatic photos of burned-out cars and trees have been posted on social media networks.
Kern County fire Captain Mike Nicholas told Reuters the blaze 150 miles (241 km) north of Los Angeles ruined 100 structures, including homes, outbuildings and garages.
Retired police officer David Klippel said he first didn't see much of a threat when he received an automated call advising him to leave his home, but was pushed to reconsider his view within an hour.
"I've never been so close to a fast-moving, ferocious fire. It was unbelievable," the 78-year-old man told AP.
"I almost didn't have time to get out," Klippel added.
Laura Rogers said she thought she'd never see her home again.
"I was sure this place was gone last night," she told AP unable to hold back tears. "I mean look at this, I can't believe it. It's like a scary movie."
Dozens of other homes were gone, however, with some 1,500 homes said to be under threat. At least three firefighters suffered from smoke inhalation and were sent to hospital, Reuters reported.
"I've never been in a wildland fire where I've seen so many homes burn," Kern County fire Captain Tyler Townsend said. "It's one of the most devastating I've ever seen."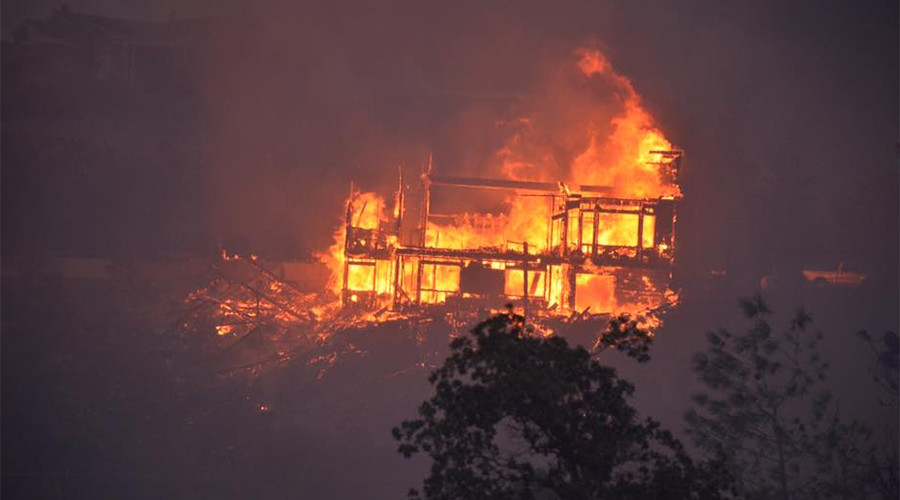 You can share this story on social media: