'No evidence' for gay claims about Orlando shooter – FBI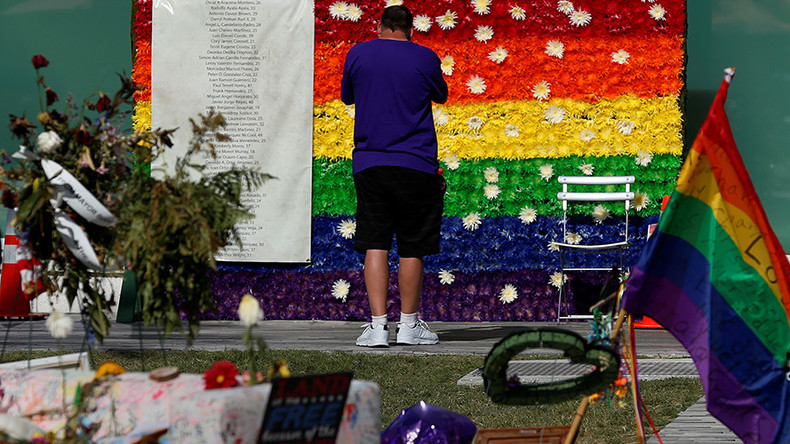 There is no evidence that Omar Mateen frequented Pulse Nightclub, had gay lovers or used gay dating apps, federal investigators said after looking through not just the Orlando attacker's electronic history, but also that of those making the assertions.
Mateen killed 49 people and wounded 53 at Pulse, an Orlando gay nightclub, on June 12. During the attack, he called the police and said he was acting on behalf of Islamic State (IS, also known as ISIS/ISIL) and in protest of US bombing of Iraq and Syria.
Later, however, several Pulse regulars said they had seen Mateen at the club or been contacted by him on gay dating apps such as Grindr, Jack'd and Adam4Adam. On Tuesday, Univision aired an interview with a masked man identified as "Miguel," who claimed he had sex with Mateen, and that he and the Orlando attacker had engaged in an unprotected threesome with a Puerto Rican man claiming to be HIV positive.
The Federal Bureau of Investigation has "found no evidence so far" to support claims that Mateen had gay lovers or communicated on gay dating apps, several law enforcement officials told The Los Angeles Times on Thursday.
To verify the claims, federal agents have gone through Mateen's electronic devices – including his laptop and cellphone – as well as those of the men making the claims. They have found "no photographs, no text messages, no smartphone apps, no gay pornography and no cell-tower location data" even to suggest that Mateen had a secret gay life, officials told the LA Times.
Mateen, who was born in the US to Afghan parents, was married twice, to women, and had a son. While the FBI is continuing to probe into Mateen's past, investigators now believe that the men who made the claims were not credible, or confused him with someone else.
Cord Cedeno, a 23-year-old Pulse regular, insisted that he had seen Mateen at Pulse previously, and even exchanged messages with him on Grindr.
"The FBI obviously is trying to cover up their information," he told the LA Times, referring to the testimonies by other men. "I can go take a lie detector test. I know for a fact Omar messaged me."
Cedeno said he did not trust the FBI to investigate Mateen, noting that the Bureau had questioned the would-be shooter in 2013 and 2014, before letting him go and removing his name from the terrorist watch list. This enabled Mateen to legally buy the guns he used in the June 12 attack.
"They let him go. They let him do this massacre. They could have arrested him. It just does not add up," Cedeno said.
President Barack Obama described the Orlando attack as the worst mass shooting in US history and pushed for stricter gun laws in its wake. The FBI has said they were investigating the attack as both an act of terrorism and a hate crime.
You can share this story on social media: