Donald Trump accused of raping 13yo girl in new lawsuit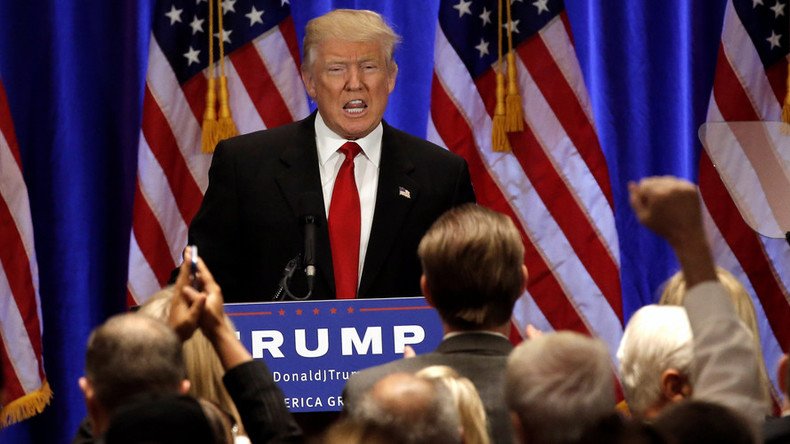 A lawsuit filed in federal court in New York has accused presumptive Republican nominee Donald Trump of repeatedly raping a 13-year-old girl more than two decades ago. A suit with similar allegations filed by the same plaintiff was dismissed in California.
The suit filed Monday, first reported by The Real Deal, alleges that the rapes occurred in 1994 at Upper East Side parties hosted by ex-hedge fund manager and convicted sex offender Jeffrey Epstein. Trump had known Epstein for seven years by that time.
The plaintiff, known only as Jane Doe, claims that Trump and Epstein lured her and other girls to the parties at Epstein's mansion with promises of a modeling career. The plaintiff said that instead she was sexually assaulted by the two men in a way the suit characterizes as "savage."
The complaint alleges that Trump tied the plaintiff to the bed and raped her. It claims that when she pleaded for him to stop, Trump struck her in the face with an open hand and screamed "that he would do whatever he wanted," according to the suit.
"Immediately following this rape, Defendant Trump threatened me that, were I ever to reveal any of the details of Defendant Trump's sexual and physical abuse of me, my family and I would be physically harmed if not killed," the plaintiff said in an affidavit, according to the New York Daily News.
Epstein is claimed to have subsequently raped the plaintiff twice, and to have reiterated violent threats against her family.
Some of the claims of girls being lured to parties were corroborated by another anonymous woman identified as Tiffany Doe. She claims that Epstein met her at the Port Authority and paid her to recruit other underage girls for his parties.
A very similar lawsuit was filed by the same Jane Doe in federal court in Los Angeles. That suit included claims that Trump gave the plaintiff money for an abortion after she expressed fear of pregnancy, and that Trump called Epstein, but these allegations are nowhere to be found in the latest complaint.
The Los Angeles lawsuit – which asked for $100 million in damages – was dismissed by a judge last month, and the Trump campaign called it "categorically false" and "disgusting."
While Monday's suit may not have the price tag or some of the sensational claims of its forerunner, it still has the core allegations of sexual assault.
Doe said in the filing that she remained silent on the matter for so many years because she was afraid of the threats against her family being carried out, but said she remains traumatized by the incident due to the media coverage of Trump.
The Donald Trump campaign did not immediately respond to RT's request for comment.
You can share this story on social media: