'Freudian slip': VP Biden says he wants Syrian president named 'Saddam' to go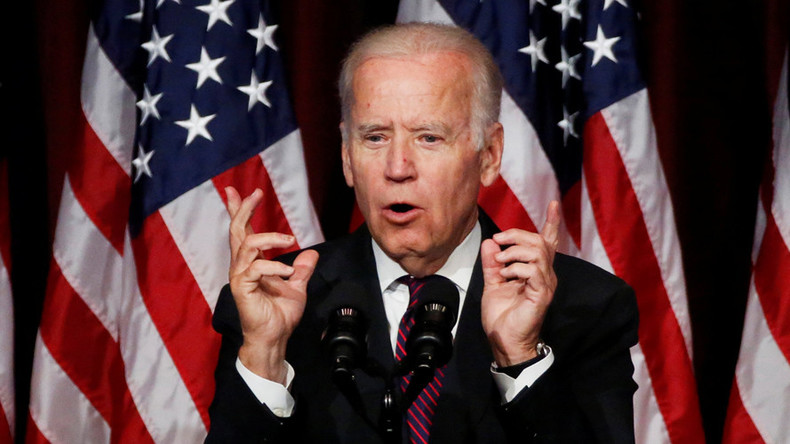 US Vice-President Joe Biden has mistaken Syrian President Bashar Assad for Saddam Hussein when arguing that he must go. The gaffe adds to a growing log of Freudian slips by the American elite, but also suggests the US may be losing its temper on Mideast affairs.
With the Syrian peace process underway and global powers trying to put the four-year war to an end and defeat Islamic State (IS, previously ISIS/ISIL), the US still believes removing President Bashar Assad from power must come first.
"Yet when you press the elected officials, they say, 'Well, what do you want us to do about Assad? Take him out?' Is that what you want me to do? Tell me how this ends, Charlie," Vice-President Biden said in Charlie Rose's CBS talk show.
But the unusually emotional interview outlining the US interests in Syria war then took another path.
Claiming that Washington is "trying to decimate ISIL and in the process Al-Nusra [Front]," Biden said: "At the same time, we're continuing to work the international community to reach a negotiated settlement that gets Saddam out of power, have him leave."
"Assad, you mean," Rose corrected him.
"Assad, I'm sorry," Biden replied. "Freudian slip."
In the ongoing Syrian talks, Assad's future still remains one of the most troubled issues. The US and other Western nations insist the Syrian leader, who has stayed in power though a bloody civil war and the ongoing fight against IS, must go.
Moscow and Tehran say Assad is a democratically elected leader, arguing that it is up to Syria's people to decide on his fate through local elections.
In turn, Iraq has seen over a decade of chaos and violence after the late hardline ruler, Saddam Hussein, was ousted from power in 2003, captured by US troops and executed by hanging under a ruling by the highly controversial Iraqi Criminal Tribunal.