Clinton superdelegate & long-time congressman found guilty on 22 counts in corruption trial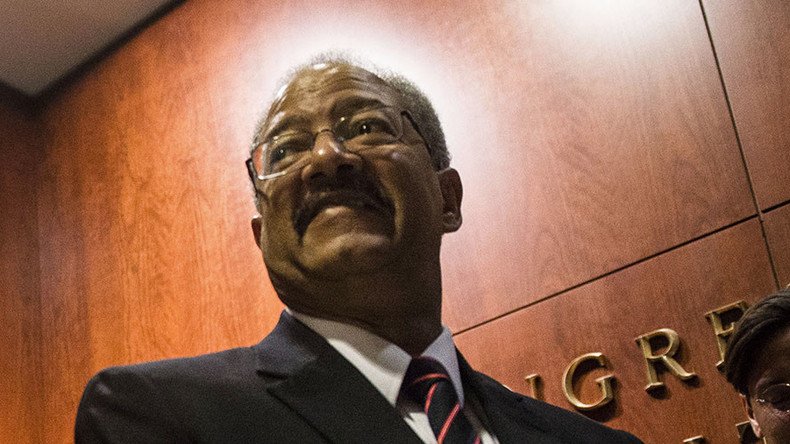 Representative Chaka Fattah, one of Hillary Clinton's superdelegates, was found guilty on over 20 separate federal charges, including bribery, money laundering, fraud and racketeering. Maintaining his innocence, the 11-term congressman is now out on bail.
"Well, it's a tough day, but we want to confer with my lawyers to figure out what our next steps are," Fattah, a Democratic congressman representing Pennsylvania's second district, said in a brief statement outside a Philadelphia courthouse.
He added that "today's outcome isn't what we had hoped," according to the Hill.
Fattah was found guilty on a total 22 charges in the 29-count indictment filed in July 2015 against the congressman and his four associates Robert Brand, Karen Nicholas, Herbert Vederman and Bonnie Bowser.
"Congressman Fattah corruptly abused his office for his own personal and political gain," Assistant Attorney General Leslie R. Caldwell said. "He took bribes, committed fraud and even stole money from his own campaigns. In short, Congressman Fattah and his codefendants deprived the people of eastern Pennsylvania of their right to the honest services of their elected representative."
Fattah's defense has been maintaining that he is a victim in the case, because the congressman was not aware that two of his political consultants from a 2007 Philadelphia mayoral bid hatched a scheme to move money around. However, Fattah was convicted of money laundering charges related to his borrowing of $1 million.
After losing the election, Fattah is said to have returned $400,000 to the donor and repaid the remainder using his own nonprofit, the Educational Advancement Alliance, to channel charitable and federal grant funds. The conspirators created sham contracts and false accounting entries as well as tax returns and campaign finance disclosure statements in order to hide the scheme, prosecutors say.
"In exchange for Fattah's efforts to arrange the award of the funds to the non-profit, the consultant agreed to forgive the debt owed by the campaign," the Justice Department said in a press release listing Fattah's convictions.
The jury has also found the congressman guilty of using thousands of dollars from his campaign funds, both mayoral and congressional, to pay off his son's student loan debt.
According to the prosecution, one of Fattah's consultants made 34 successful loan payments on behalf of his son between 2007 and 2011, totaling approximately $23,000.
It has been established that Fattah was accepting bribes while trying to secure an ambassadorship or appointment to the US Trade Commission for former Philadelphia Deputy Mayor Herbert Vederman.
"[…] the defendants sought to conceal an $18,000 bribe payment from Vederman to Fattah by disguising it as a payment for a sham car sale," the DoJ said.
READ MORE: 3 NYPD commanders, including deputy chief, arrested on corruption charges
Fattah is scheduled to appear in court for his sentencing on October 4. He potentially faces life in prison if all sentences run consecutively, as several of his counts carry terms as long as 20 years each.
"Chaka Fattah Sr. and his co-defendants betrayed the public trust and undermined our faith in government," United States Attorney Zane David Memeger said. "Today's verdict makes clear that the citizens of the Eastern District of Pennsylvania expect their public officials to act with honesty and integrity, and to not sell their office for personal gain. Hopefully, our elected officials in Philadelphia and elsewhere hear today's message loud and clear."
Despite his conviction, Fattah is to remain in Congress until the end of his term in January. In November 2014, he was reelected by a majority of Philadelphians. However, Fattah failed to win his primary bid in April this year, losing for the first time since entering Congress in 1995.
You can share this story on social media: