Florida woman charged for threatening to blow up mosque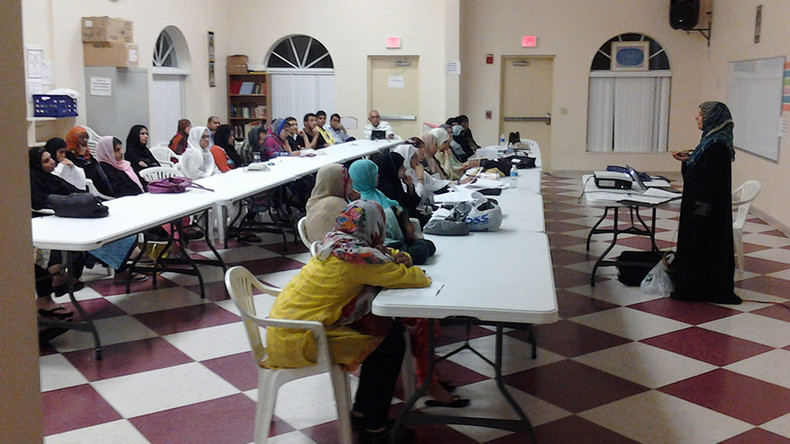 A woman was arrested at the Islamic Foundation of South Florida on Sunday after threatening to bomb the mosque. Among other charges, she is accused of damage to property and possession of what turned out to be a hoax bomb.
Irina Bihary is currently undergoing a psychiatric evaluation and faces criminal mischief charges along with possession of a hoax bomb. She earned two counts of damage to property by kicking the inside of a police door so hard that the entire frame bent outward, the Sun Sentinel reported.
This is not the first time the Lighthouse Point woman has been in trouble. In 2013, she was arrested for criminal mischief. However, details of that arrest are scarce.
Bihary, 40, came to the mosque on Sunday morning and almost immediately other worshippers noticed something amiss. As she was ripping up pamphlets and kicking objects, Rabia Khan told the Sun Sentinel: "She just had very abnormal behavior."
The woman left, only to return around 5:00pm with a package and a cellphone with an exposed battery and visible wires.
When two other congregants spoke with her, she began asking strange questions such as how many people would be attending the upcoming prayer service.
"I can't stand this place. I can't wait to knock it down," she told them, according to the Miami Herald.
"I don't care if we all die here today and if everything blows up … we are all going to die anyways," she added.
With the evening prayer meant to mark the end of the daily fast for Ramadan, congregants called the police. When law enforcement arrived, Bihary attempted to flee in her 2006 Mitsubishi, but she was stopped on her way out. The mosque was evacuated and she was questioned.
The Broward County Sheriff's Office bomb squad, a Sunrise police dog, FBI agents and an Alcohol, Tobacco, Firearms federal agent all arrived to search the scene, where they found the paper bag, but no cell phone.
Bihary told police the members of the mosque were "money-sucking parasites," who killed her husband. She also claimed the people at the mosque weren't true Muslims and that the establishment had been founded by a killer, WPLG reported.
She was taken to hospital for a mental health evaluation under Florida's Baker Act law.
The congregation was relieved to learn that it was only a hoax. "It is dangerous times, and we're worried that one of these threats might turn into something that is bad," Wilfredo Ruiz, spokesman for the Council on American-Islamic Relations in Florida, told WPLG.