Hacktivist cracks ISIS Twitter accounts, posts rainbow flags & gay porn as payback for Orlando boast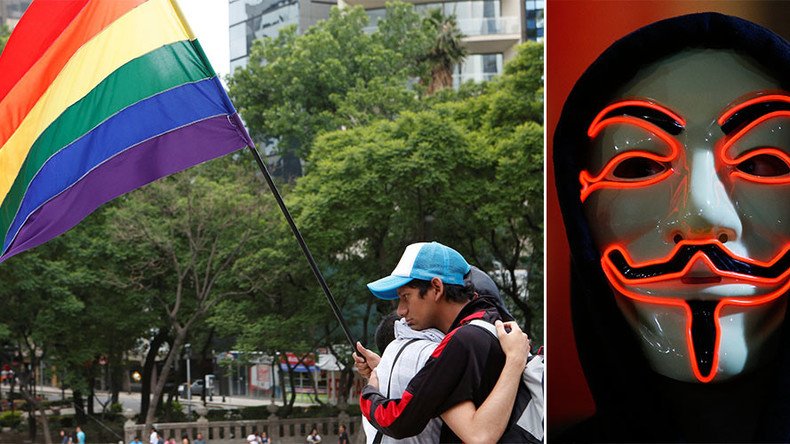 A member of the hacktivist collective Anonymous was so enraged when Islamic State claimed responsibility for last weekend's Orlando massacre that they infiltrated the accounts of its supporters and uploaded a mountain of gay-friendly content.
Twitter user @WauchulaGhost told Newsweek they felt compelled to act after Omar Mateen went on the rampage, killing 49 people at Pulse nightclub in what appears to be a homophobic attack.
"I did it for the lost lives in Orlando," the hacker said. "Daesh [Islamic State, IS, formerly ISIS/ISIL] have been spreading and praising the attack, so I thought I would defend those that were lost. The taking of innocent lives will not be tolerated."
READ MORE: House GOP leaders block vote on LGBT rights 2 days after Orlando massacre
The avatars of a number of Twitter accounts were altered to rainbow banners in the hack and user names were changed to 'Jacked by a Ghost'.
Tweets proclaiming "I'm gay and proud!!" and "Out and Proud!" were sent from the accounts, while hashtags "#OrlandoWillNotBeForgotten" and #DaeshBags and links to adult websites were also posted in the hack claimed by @WauchulaGhost.
The hacktivist said they were forced to take a stand because of inaction on the part of the authorities who, they claim, have failed to effectively target IS sympathizers online.
"The government hasn't really been doing enough especially on social media," @WauchulaGhost told The Washington Post. "You see the beheading images everywhere. Kids get online and shouldn't see these images."
"My goal waking up in the morning and see messages from Daesh, telling me they're going to kill me or cut my head off," they added. "The madder they get, the happier I get."
READ MORE: 'We will strike back': Anonymous-style video vows to take revenge on ISIS after Brussels attacks

This latest hacking mission, one of many anti-IS initiatives undertaken by @WauchulaGhost, was met with widespread approval by fellow Twitterati.
You can share this story on social media: