Old growth trees spiked by eco-warriors in Oregon to stop logging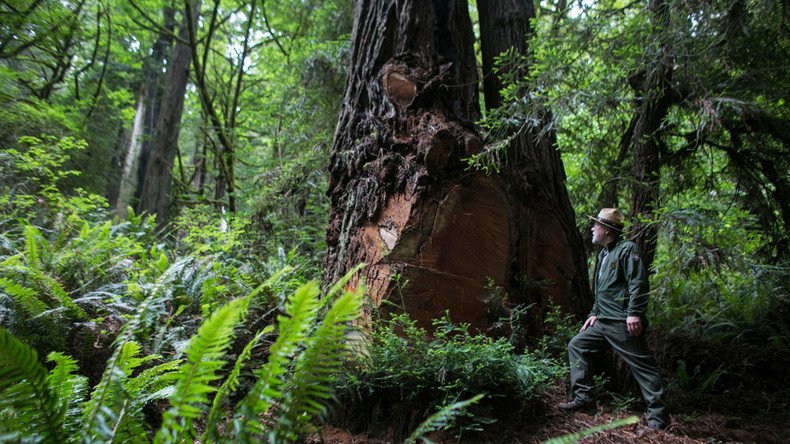 Environmental activists warned those who cut down ancient trees for profit that giant logs in an Oregon mill have been spiked in protest.
Earth First! released the statement Saturday, claiming dozens of spikes had been placed in timber at the Noti mill to stop the company from "processing the oldest and largest trees," so workers wouldn't be harmed by cutting into them.
Nails were also placed in the trunks to prevent the company from using metal detectors to easily remove spikes.
"This action was taken to stop production and is not intended to harm any worker at the mill," the group said in their statement.
They dedicated the act of civil disobedience to Marius Mason, an activist currently serving a 22-year sentence for arson and property damage aimed at the fur and genetically-modified food industry.
Before they were cut down, the trees lived longer than any human being – at least 120 years or more – and their wood fetches a better price than the lower-quality trees grown more quickly.
Only seven percent of US forest cover is made up of old growth, according to a report by Global Forest Watch. 80 percent of the remaining old growth forests in the Pacific Northwest is slated for logging, according to a study by the University of Michigan.
Tree spiking involves inserting metal into either the base of a tree to prevent it being cut down, or higher up to affect the sawmill processing the lumber after it has been felled.
While anti-logging activists are often branded by the mainstream media and the US justice system as "eco-terrorists," research suggests the term was developed in the 1970s by PR firms in order to demonize those trying to stop the logging industry from cutting down America's ancient forests.
Some environmental activists renounced the use of tree spikes after one mill worker in California may have been seriously injured in an accident nearly 30 years ago, but no other incidents have ever been reported.
You can share this story on social media: