Stairway to Trial: Led Zeppelin will defend rights to world-famous song in court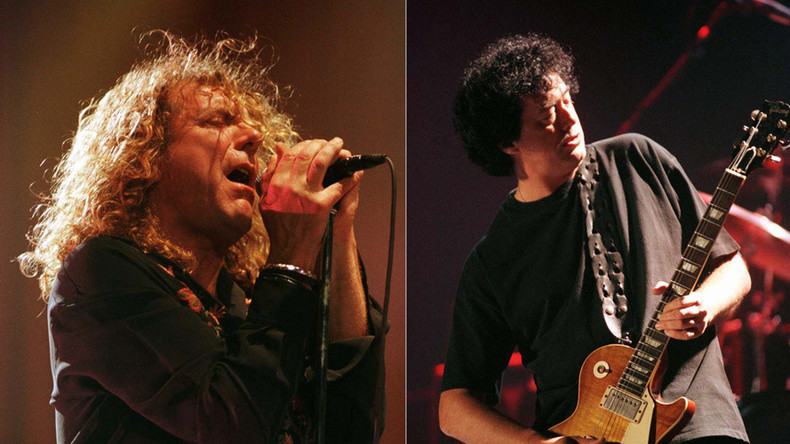 Led Zeppelin's Robert Plant and Jimmy Page will appear in an LA court over claims they practically copied the opening of one of the world's most famous rock songs from a lesser-known American band decades ago.
The two Zeppelin songwriters will contest the charge on Tuesday, insisting the famous opening sequence to Stairway to Heaven is theirs.
The song has been etched into the consciousness of several generations and is synonymous with Led Zeppelin. But Spirit begs to differ. The LA band has finally got the Led Zeppelin's singer and guitarist to come out and debate in front of a jury whether the melancholic A-minor opening to Stairway is actually the opening from the US band's instrumental track Taurus.
Taurus was written three years before Stairway, in 1967. Spirit opened for Zeppelin when the British rockers made their US debut on December 26, 1968 in Denver. Earlier testimony dwelled on that, among other things, but Plant and Page always insisted they had never had a deep enough familiarity with Spirit's music to make the steal.
There were two years of legal proceedings between Zeppelin and the trustees for Spirit's late guitarist, Randy Wolfe, who also went by the name Randy California. The musician never pursued charges and died in 1997. But before his death he gave a candid interview to Listener magazine:
"Well, if you listen to the two songs, you can make your own judgment. It's an exact ... I'd say it was a rip-off… And the guys made millions of bucks on it and never said 'Thank you,' never said, 'Can we pay you some money for it?' It's kind of a sore point with me."
Zeppelin have said several things over the years, among them that the descending A-minor sequence has been used in folk music since time immemorial, and that the lawsuit completely ignores the rest of the track, which builds into an eight-minute grandstander.
Of course, sometimes epics evolve easily once you're off to a well-crafted beginning. District Court Judge R. Gary Klausner ruled in May there was substantial reason for the issue to go to trial, despite Spirit's representatives "[failure] to proffer evidence of striking similarity."
It will be a tough case, as laws change all the time to increasingly reflect even the slightest resemblance, and anyone who has heard both songs will undoubtedly say the truth depends on how you look at it. The descending A-minor sequence is indeed a very traditional one, a "centuries-old musical element," as Zeppelin's lawyers have always claimed.
The seminal British rockers have been accused before of stealing songs, the lawsuit argues. In this regard, it lists no less than 16 Zeppelin songs, including the classics 'Babe I'm Gonna Leave You' and 'Whole Lotta Love'.
Potentially humorous is the fact that the jury will be deciding a case of copyright law in circumstances where that same law will prevent them from actually listening to the original Spirit song. Instead they'll be treated to a stripped-down version.
However, 'Stairway to Heaven' has a special place in people's hearts, or – to get down to brass tacks – is a potential moneymaker for whoever owns its rights. Spirit's representation could either go for a symbolic $1 fee plus writing credit if they win, or – according to some reports – a huge $40 million.
According to Conde Nast's Portfolio, the song earned over $562 million in the 37 years spanning 1971 to 2008.
Zeppelin's lawyers also have a few tricks up their sleeve, according to the LA Times. They are expected to try to prove that Taurus itself was inspired by a billion other things. If they can prove that, Spirit would virtually have no claim. And there is another small matter: although Stairway was always the gift that kept on giving, Spirit's representation would only be able to seek revenue produced by the song three years before the latest remaster was released, which would mean 2011.
You can share this story on social media: