The kids are alright: US teens drop sex, drugs and smoking new reports shows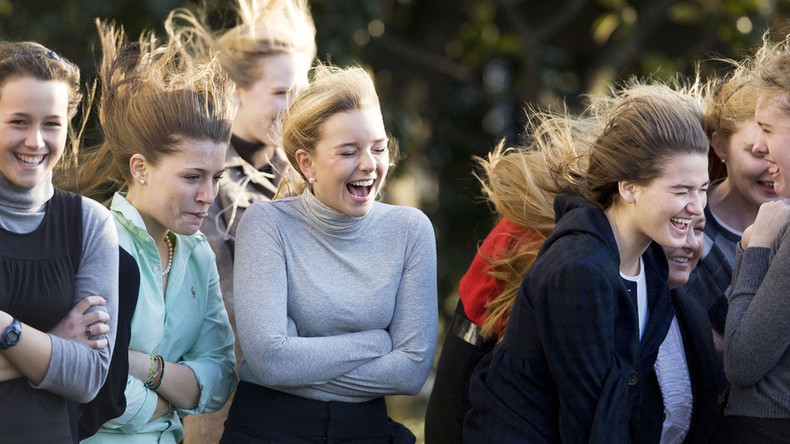 Sex, drugs and cigarettes aren't in high demand among US teenagers these days, as fewer young people choose to engage in "risky behavior" compared to youth a decade or two ago, a government survey reveals.
The Centers of Disease Control and Prevention (CDC) polled 16,000 American students aged 12 and older at 125 schools across the country as a part of the National Youth Risk Behavior Survey (YRBS) that the agency has conducted every two years since 1991.
It appears that nowadays, teenagers are smoking less, not as many use illegal drugs or drink alcohol and fewer have sexual relations.
"Current cigarette smoking is at an all-time low, which is great news. However, it's troubling to see that students are engaging in new risk behaviors, such as using e-cigarettes," said CDC Director Tom Frieden.
According to the survey, 32 percent of polled high school students never tried cigarette smoking. However, more of them – 45 percent - have caught on a newer nicotine trend – vapor.
In general, cigarette use has decreased significantly, from 28 percent in 1991 to 11 percent in 2015.
The number of teenagers drinking alcohol has also been decreasing steadily, currently standing at nearly 33 percent, compared to 50.8 percent in 1991.
These days, not as many teenagers dare to try alcohol as in times past. Of those polled, 63.2 percent admitted to having "ever" tried an alcoholic drink. In 1991, it was 81.6 percent of students who did.
There are also fewer children who had alcohol before they turned 13 years old. That number plunged from 32.7 percent two decades ago to 17.2 percent in 2015.
Even though the CDC has marked a decrease in drug use among teenagers, more of them smoke marijuana in 2015 than in 1991, when 14.7 admitted to it, compared to last year's 21.7 percent. Yet, that number is significantly down from the highest of 26.7 percent, registered in 1999.
The situation is similar when it comes to cocaine, which was "ever" used by 5.2 percent of teenagers, down by nearly half as many who had used the drug at least once in 1999, 9.5 percent.
The survey also shows that in 2015, the percentage of high school students who had currently been having sexual relations decreased to 30 percent from 34 percent two years prior.
The survey found that 41 percent said they had "ever" had sex, after it had been about 47 percent in 2007.
The recent study has also marked an all-time low in children under 13 having sex. In 1991, 10.2 percent of pre-teens were sexual at the time, but in 2015, that number dropped more than half to 3.9 percent.
Yet, the survey has revealed a worrying trend of teenagers engaged in sexual relations using condoms less often. Over the past decade, nearly 10 percent fewer students used that kind of contraception. In 2003, 63 percent said they used a condom, while in 2015, there were 56.9 percent, over 2 percent less than two years previously.
"While overall trends for the 2015 report are positive, the results highlight the continued need for improvements in reducing risks among teens," said Laura Kann, Ph.D., chief of CDC's School-Based Surveillance Branch.
You can share this story on social media: