Marijuana goggles might warn teens of the effects of drug use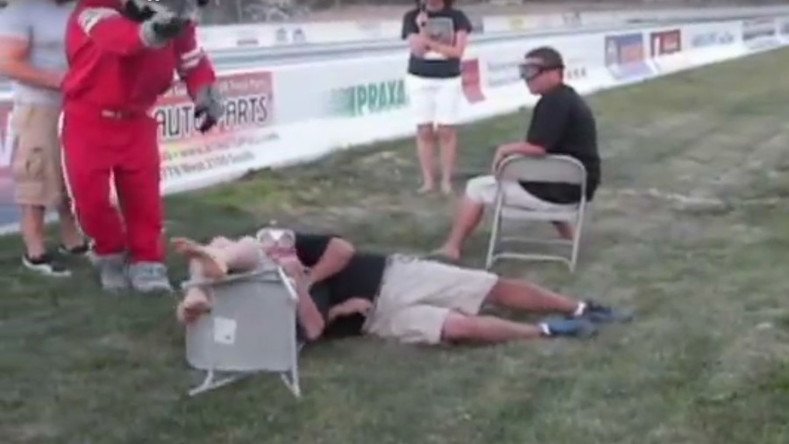 Forget beer goggles: Youth councils in Hancock County, Indiana, are trying out marijuana goggles at community events to teach teens about the effects of pot use.
The "Fatal Vision" goggles are equipped with a green lens filter, and are supposed to simulate the effects of marijuana use on a person's cognitive abilities and motor coordination.
"Anytime you can do an activity – something that's interactive with them, or something that provides education, that's great," Tim Retherford of Neighborhoods Against Substance Abuse told WNCN. "These actually simulate the loss of some of your cognitive functions."
The goggles, inscribed with the brand name "Fatal Vision" on the headband, look like regular safety glasses, but it's their green lens filters that simulate distorted vision, cause loss of motor coordination, and slow down decision and reaction time.
During the goggle tryout, teens are tasked with completing a paper maze. Without wearing the goggles, the teens completed the maze within 12 seconds. But wearing the goggles reportedly made the wearers take about four times longer to finish the maze.
"These might not be the exact results, but these are very close to exactly what some people in our community are going out and driving in," New Palestine High School senior Keelie Baker told WNCN.
The marijuana goggles were developed by Innocorp Limited, a company that manufactures several simulated impairment products that mimic the effects of alcohol and other drugs.
Innocorp's co-founder, Michael Aguilar, started the company when his son's friend, Tyler, was run over by a drunk driver while they played in the front yard. Tyler survived, but Aguilar realized the incident could have been more tragic and tried to find a solution to prevent future accidents from drunk driving.
One report detailed a soccer team from Denmark practicing drills while wearing the Fatal Vision goggle for drunk drivers, with some spectacular slapstick results.
The Psychology Club at Arizona State also arranged for students to try out the goggles while taking a sobriety test.
The goggles are not cheap, with packages starting at $975. The most expensive set at $2,200 will show users the consequences of impairment under the influence of alcohol and marijuana.
However, there are critics. "Whoever invented 'marijuana goggles' has apparently never consumed cannabis, or is simply a brilliant marketer," said Matt Simon, a legislative analyst and New England political director of the Marijuana Policy Project.
Simon cautioned that an unintended consequence may be that "kids who try 'Fatal Vision' goggles will be more likely to try cannabis so they can find out for themselves if the effects are actually similar to the goggles."
You can share this story on social media: