Judge in Stanford sexual assault case now target of recall effort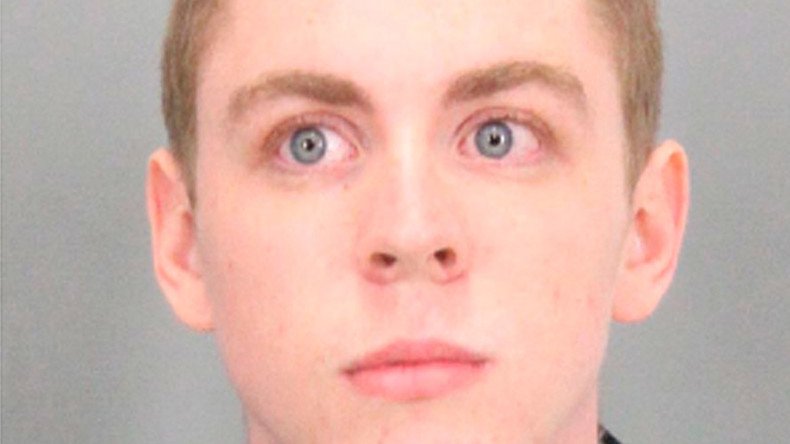 More than 350,000 people have signed a petition seeking to recall Santa Clara County Superior Court Judge Aaron Persky, who sentenced a 20-year-old former Stanford University swimmer to just six months in jail for sexual assaulting an unconscious woman.
Persky has come under extreme scrutiny for his lenient sentencing of Brock Turner, who was convicted in March of three felony charges for the January 2015 sexual assault of an unconscious 23-year-old woman on Stanford's campus. Turner admitted to sexual contact with the woman, but said she had given consent. Both were heavily intoxicated, and the woman testified in court that she has no memory of the assault.Turner was spotted by two male graduate students "thrusting his hips atop an unconscious woman lying on the ground." The two men confronted Turner, who then fled. They chased him and held him down until police arrived.
A jury found Turner guilty of assault with intent to commit rape of an intoxicated person, sexually penetrating an intoxicated person with a foreign object, and sexually penetrating an unconscious person with a foreign object.
While prosecutors recommended six years in state prison for Turner, Persky, a Stanford alumnus, said that six months in county jail with three years probation was a better fit.
"A prison sentence would have a severe impact on him," Persky said Thursday. "I think he will not be a danger to others."
When considering the sentence, Persky said he took into account Turner's lack of "significant" prior offenses, the media coverage surrounding the case, positive letters from Turner's loved ones attesting to his character, and that "there is less moral culpability attached to the defendant, who is... intoxicated."
"The media attention that has been given to this case has in a way sort of poisoned the lives of the people that have been affected. … The question I've asked myself is … 'Is state prison for this defendant an antidote to that poison?'" Persky said.
Turner could have received up to 14 years in prison. Stanford University Law Professor Michele Dauber, who has spearheaded an effort to recall Persky, said in a letter to the court that Turner should have faced a minimum of two to three years in prison based on California law.
"He has made women at Stanford and across California less safe," Dauber told The Guardian. "The judge bent over backwards in order to make an exception … and the message to women and students is 'you're on your own,' and the message to potential perpetrators is, 'I've got your back.'"
Dauber said Persky faltered when considering Turner's age, academic achievements and intoxication during sentencing.
"If you're going to declare that a high-achieving perpetrator is an unusual case, then you're saying to women on college campuses that they don't deserve the full protection of the law in the state of California," Dauber said, according to the New York Times.
A petition calling for the recall of Persky, an elected judge currently running unopposed, has garnered more than 350,000 signatures.
Dauber wrote to Persky that Stanford surveys found that 43 percent of female undergrads have been the target of sexual assault or misconduct, while not even 3 percent of those who experienced sexual assault or nonconsensual sexual contact ended up reporting it to the school.
In addition to the light sentence, comments about the case made by Turner's father have ignited outrage. In a letter to the court prior to sentencing ‒ released to the public on Sunday by Dauber ‒ Dan Turner sought a lenient punishment, saying the attention to the case, the sexual assault conviction and having to register as a sex offender had caused his son to be depressed, anxious and lose his appetite. It was all "a steep price to pay for 20 minutes of action out of his 20 plus years of life," Dan Turner wrote.
After a firestorm of criticism aimed at his "20 minutes of action" characterization of sexual assault caused Dan Turner to respond on Monday.
"My words have been misinterpreted by people," he said in a statement to The Huffington Post. "What I meant with that comment is a 20 minute period of time. I was not referring to sexual activity by the word 'action.' It was an unfortunate choice of words and I did not mean to be disrespectful or offensive to anyone."
Santa Clara District Attorney Jeff Rosen said in a statement that he was disturbed by Turner's sentence, adding that the "punishment does not fit the crime." Turner, a "predatory offender," Rosen said, has refused to take responsibility or show remorse for his crimes.
"Campus rape is no different than off-campus rape," Rosen said. "Rape is rape."
The victim of the assault was found partially-clothed and unconscious near a dumpster by a campus public safety officer. In a 7,244-word statement read to the court prior to sentencing, she decried privilege in the case and detailed how the assault and trial have deeply affected her life.
The statement was published Friday by Buzzfeed and has been shared widely on social media. The victim told The Guardian that she will maintain her anonymity in hopes that it will help other women who have experienced sexual assault.
"I remain anonymous, yes to protect my identity. But it is also as a statement, that all of these people are fighting for someone they don't know. That's the beauty of it. I don't need labels, categories, to prove I am worthy of respect, to prove that I should be listened to. I am coming out to you as simply a woman wanting to be heard. Yes there is plenty more I'd like to tell you about me. For now, I am everywoman."
A spokesman for the Santa Clara Superior Court said Persky is unable to comment on a case while an appeal is pending, according to reports. Turner's attorneys have said they plan to appeal his conviction. He is expected to serve only three months in jail.
You can share this story on social media: