NY governor signs pro-Israel executive order to 'blacklist' BDS supporters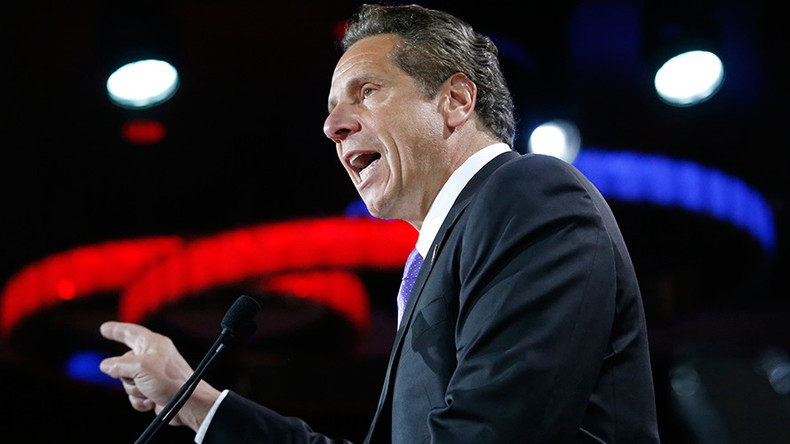 New York Governor Andrew Cuomo signed an executive order on Sunday that will penalize people and businesses who support the non-violent boycott of Israel.
In a speech to The Harvard Club, Cuomo said New York would "lead by example."
"We are also a place of action," he continued. "We want to take immediate action because we want Israel to know that we're on their side. If you boycott against Israel, New York will boycott you."
The executive order will instruct the Office of General Services to compile a list over the next six months of groups, businesses and individuals supporting the "Boycott, Divestment and Sanctions" (BDS) movement, according to Haaretz.
After completion of the process, executive-branch companies will be required to distance themselves from any organization or person on the list.
"The State of New York will not permit its own investment activity to further the BDS campaign in any way, shape or form, whether directly or indirectly," the order states.
Legal organizations have previously called attempts to push forward anti-BDS legislation "21st Century McCarthyism," and warned that it would create a "blacklist" of human rights advocates, mirroring the treatment of those who campaigned against Apartheid in South Africa.
The Center for Constitutional Rights, National Lawyers Guild, the New York Civil Liberties Union and Palestinian Legal have continuously called anti-BDS pressure politically motivated and an attack on the freedom of speech.
READ MORE: Israel connects BDS with terrorism while cracking down on German banks
The New York legislature attempted to push through an anti-boycott motion for months due to pressure from pro-Israel lobby groups, but was unsuccessful.
The latest move by Cuomo has widely been seen as an attempt to sidestep the legal process and implement the policy on his own, Salon reports.
Last month, an anti-boycott bill pending in the New York senate was revoked after more 100 organizations signed a letter to the Albany offices of all New York state assembly and senate members condemning the proposal, which they said would create "unconstitutional blacklists."
Attorney Rahul Saksena told Salon back in January it was "frightening" that there could be state employees "scouring the internet for pro-BDS Facebook posts, tweets and news articles."
"It's 21st Century McCarthyism," Saksena said at the time. "The government cannot punish individuals and entities because of their speech and political views."
On Sunday, Cuomo signed the executive order after attending a parade "in solidarity with Israel."
Right-wing organizations such as "StandWithUs" and Christian Zionist group "Christians United for Israel" and "Proclaiming Justice to the Nations" have continuously called on US politicians to pass anti-BDS legislation.
The latest move comes after California passed an anti-BDS bill in the first of many steps of the state's legislative process in April.
Canada also passed an anti-boycott motion this year after a bill introduced by members of the Conservative Party gained popularity across the board.
The BDS movement has cost Israel's economy an estimated $1.4 billion a year, according to the Financial Times.
A study by US think-tank, the Rand Corporation, however, says the number could be more than three times higher at $47 billion over 10 years.
You can share this story on social media: