Trump Unhinged: Satirical series shows 'sheer ridiculousness' of The Donald (VIDEOS)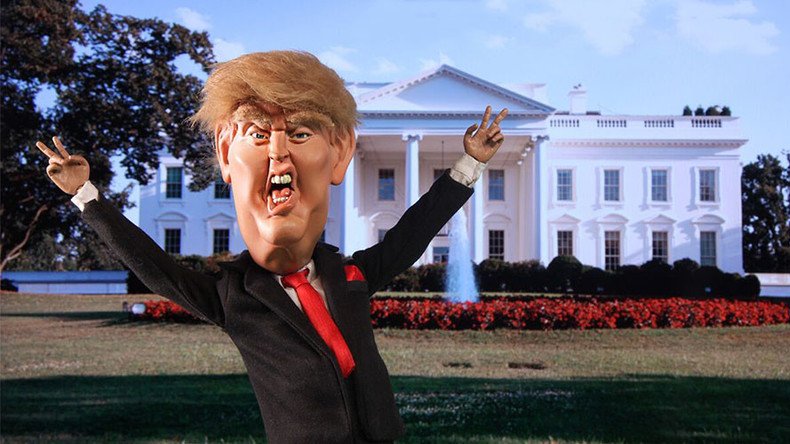 As Donald Trump's presidential campaign turns from "funny to scary," a Canadian animation studio told RT about an online series it created to take a satirical look at what goes on inside Trump's head, while exploring what US mainstream media avoids.
Using stop motion animation, Toronto based Cuppa Coffee Studio have produced "Trump Unhinged" – a satirical series that literally shows you what's going on inside the head of the Republican Party's presumptive nominee.
A new short will be released each day throughout June, and there are certainly plenty of surprises in store under Trump's golden mop.
From monkeys to popcorn to pigeon poo – we won't spill any more beans but, as Chris Morris, Cuppa's long standing Creative Director and post-production guru, told RT, the series comes with a healthy dollop of a "Pythonesque sense of the ridiculousness."
With his comments attracting more and more followers, while at the same time alienating others, not to mention the media circus surrounding him, Trump is "ripe" for such a treatment.
"There is just so much silliness surrounding Trump, as animators we couldn't resist the opportunity to put our own spin on the Trump story," Morris said. "When you read something like Eric Trump saying everything his father touches turns to gold… as an artist, you just want to see where that takes you."
With The Donald's birthday coming up on June 14, we've also been reassured that there's a "special birthday animation" for him.
Sheer ridiculousness
With a wealth of "inspiring material" to draw upon, Morris and Cuppa's Executive Producer, Adam Shaheen, decided to bring the "sheer ridiculousness of the Trump Circus" to life using stop motion animation.
"I've heard Americans say that the Trump campaign has gone from funny to scary," said Morris. "I think, as Canadians and animators, it's our duty to try and make it funny again."
A team of ten has been working on the project since April to pull this off. It all began with a clay sculpt of Trump's head created by the studio's sculptor, Tony Manco.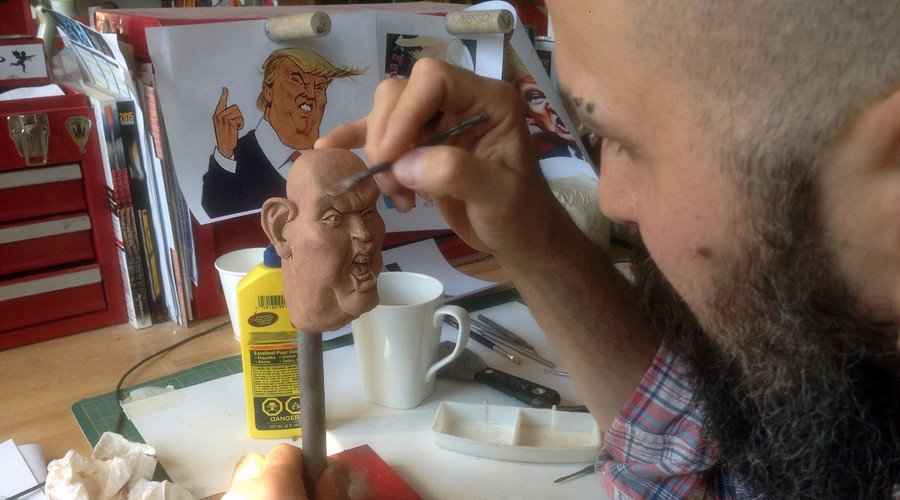 "Tony's a master at creating caricatured sculpts and his outrageous Trump head was really the inspiration for the 'Unhinged' part of our animated series," Morris explained.
"Once we had this puppet version of Trump to look at and hold in our hands, we began to pass around ideas and imagine what kind of animations we could create," he added.
With a bank of Trump's images to work with, Manco focused on "the most outrageous expressions" for his creation.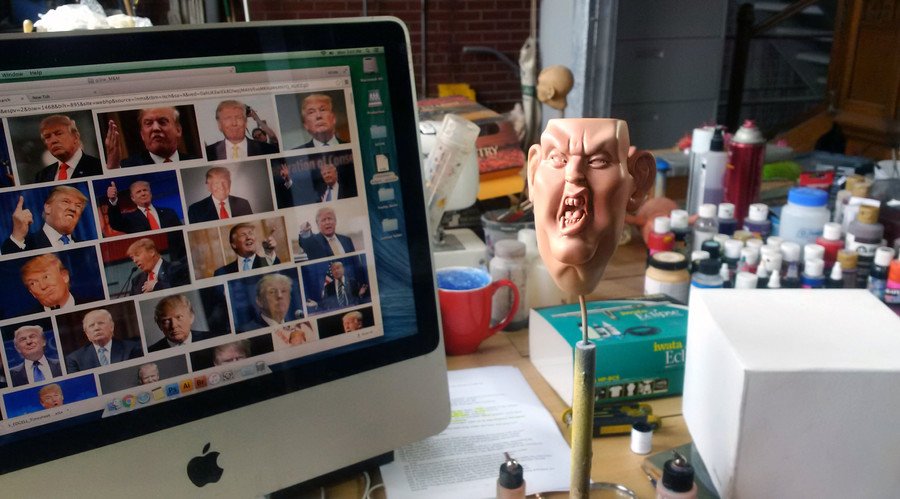 "Tony knew he had to focus on the eyes and mouth because Trump is always pulling bizarre faces with his expressive eyes and mouth," Morris explained. "Tony decided to play up his teeth because they seem to feature so prominently in his best expressions, where he bites his lip almost like Trump has to stop himself from saying something he shouldn't."
"If you think about it, that may be even scarier to think about than what Trump has stopped himself from saying!" joked Morris.
Trump was also given "big Sylvester Stallone lips" to communicate Trump's "fighter attitude."
Think before you speak
With the "strange head of Trump" before them and a wealth of "epic" quotes and comments to draw upon, Shaheen had "a flash of inspiration to have his head blow open."
"That idea led us to thinking about what is inside Trump's head, how he sees things, where do his ideas come from," Morris said.
To shoot the thousands of frames required, three pounds of blue jelly beans and endless cans of gold spray paint were employed. A small fortune was also spent on gold chocolate coins.
While there's plenty of absurdity and fun in store for viewers, there are also more serious undertones, which are intended not only for viewers, but also for the Trump campaign itself.
"If there is a message it might be, 'Think before you speak.'" Morris explained to RT, adding that the team also hopes to occupy a gap that sorely needs to be filled in the ever expanding media circus surrounding the election.
"Seriously, it's a bit of fun that politics often lacks," Morris says. "But we think it cleverly highlights parts of the US Election and expands the conversation in a way that the mainstream media like the New York Times doesn't."
With over 200 international awards to their name, Cuppa Coffee is no stranger to the world of animation, having worked on numerous productions that include Celebrity Death Match, Jo Jo's Circus, Bruno, and the Banana Bunch.
WATCH MORE:
This isn't the Cuppa Coffee team's first foray into the world of politics either. In 2013, they created an animation inspired by then-Toronto Mayor Rob Ford and the madness and media circus surrounding the out of control mayor.
You can share this story on social media: