4,700 Syrians to receive asylum in US as migrant camps deteriorate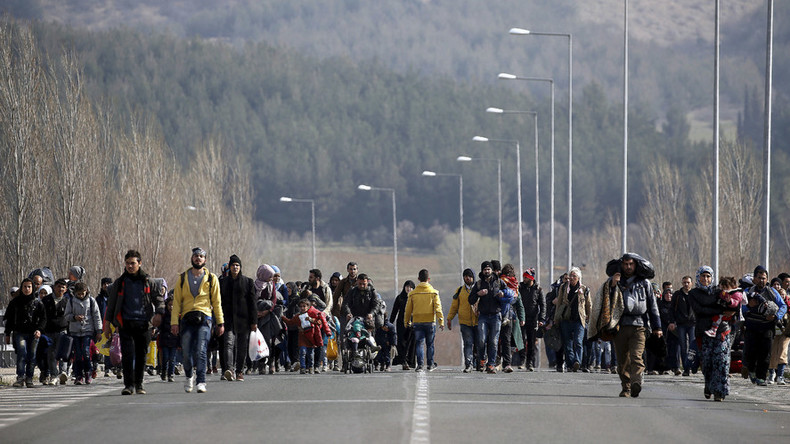 The US has approved 4,700 Syrians for asylum, according to the Homeland Security chief. An additional 7,900 Syrians are awaiting security reviews as the Obama administration is facing mounting criticism for falling behind on its resettlement goal.
The resettlement figure of 4,700 represents just under half of the 10,000 Syrian refugees that the Obama administration planned to accept in fiscal year 2016, which ends on September 30. The announcement was made by Department of Homeland Security Secretary Jeh Johnson before a advisory council meeting in Washington, DC on Thursday, according to Reuters.
Johnson was responding to criticism faulting the White House for falling behind in meeting its goal while Syrian refugees remain stranded on the borders of Jordan and Turkey. Out of the total goal of 10,000, only 1,736 Syrian refugees had been taken into the US by the end of April. The Obama administration has also received criticism from other countries for not doing enough.
The Associated Press reported that from May 1, 2011 to May 31, 2016, the US only approved 4,674 Syrian refugees for resettlement. The states taking in the largest numbers were Michigan, which resettled 505 Syrian nationals, just ahead of California, which took in 496. Arizona accommodated 368, Pennsylvania welcomed 364, and Illinois took 291 Syrians. At least 12 states have taken none, including Alabama, Montana, Vermont, and Wyoming, in addition to the District of Columbia.
The announcement comes as conditions in temporary migrant encampments continue to deteriorate. The Associated Press reported that there are two rapidly growing encampments on the Syrian-Jordan border, where the population has hit 64,000, half of which are children. It is expected that the population will grow to 100,000 by the end of the year if the fighting in Syria continues. The encampments have few resources.
"Refugees live in tents or shelters made of tarp, wood scraps and even women's scarves, exposed to desert's extreme cold, heat and sand storms. Lack of latrines and trash collection has led to the spread of diarrhea and infections," reported the AP.
The area is remote and difficult to reach, which makes delivering aid and help difficult.
Most of the 4 million people estimated to have fled the war in Syria are living in neighboring Turkey, Lebanon, and Jordan, according to UN figures. Canada has offered visas to more than 48,000 and is allowing private groups to sponsor Syrian families. More than 400,000 Syrians sought asylum in Germany last year, while Brazil has issued nearly 8,500 humanitarian visas to Syrians.
"The United States cannot lead by example unless the administration meets this year's very modest goal and sets a more meaningful and ambitious goal for next year," a senior director for refugee protection at the advocacy group Human Rights First, Eleanor Acer, said in May.
She added that the key factors behind the slow pace of granting asylum are red tape and a lack of staff and funding to vet refugees.