Chicago mayor dodges witness stand as whistleblowers settle lawsuit against city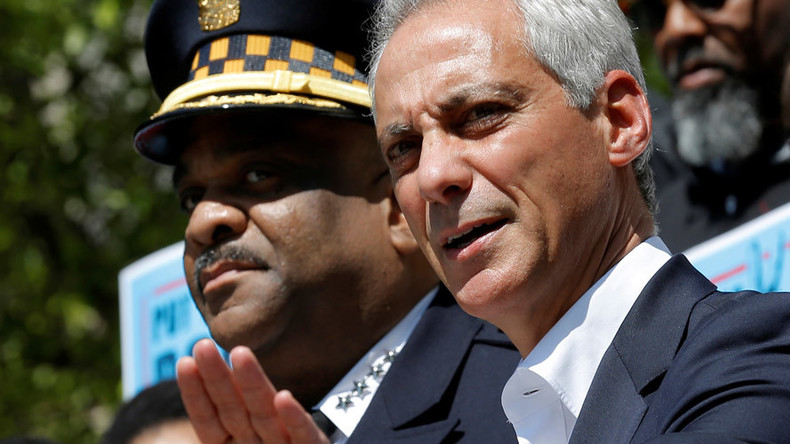 Chicago Mayor Rahm Emanuel will not have to testify about an alleged "code of silence" in the Chicago Police Department, as the city has settled a lawsuit filed by two police officers for $2 million.
The settlement was announced on Tuesday just as the trial was about to start, ending a battle between the city and Officers Shannon Spalding and Daniel Echeverria, who alleged that they were retaliated against for helping to expose corruption within the Chicago PD.
"That's an amount we concluded makes sense for the city and for taxpayers," said Chicago's corporation counsel, Stephen R. Patton, in commenting on the $2 million settlement, according to the Chicago Suntimes.
Emanuel admitted during a December speech that there was, in fact, a "code of silence" under which CPD officers were expected to turn a blind eye to wrongdoings committed by fellow officers – despite the department's long-term denial that any such unspoken code existed.
READ MORE: Chicago police to release officer shooting videos within 2-3 mos as mayor caves to pressure
In an unsuccessful bid to keep Emanual from testifying on May 21, city lawyers told District Judge Gary Feinerman that they would admit to a jury that the CBD'd unwritten rule exists.
The ruling has forced City Hall to reverse decades of "code of silence" denials.
In 2007, officers Spalding and Echeverria were allegedly told by their superiors to ignore evidence of criminal wrongdoing by Sergeant Ronald Watts, but the two reported it to the FBI all the same.
The settlement means there will be no testimony from Mayor Rahm Emanuel. So the streak of mayors staying off the witness stand continues

— Jason Meisner (@jmetr22b) May 31, 2016
What the officers thought would end in a simple meeting turned into "Operation Brass Tax." Their involvement in the FBI's investigation into Watts, who had shaken down drug dealers, eventually became a full-time job, so they were forced to inform CPD internal affairs.
READ MORE: Chicago mayor offers 'major overhaul' of police training program, wants more cops w/Tasers
The whistleblowers ended up spending two years on the case, resulting a 22-month prison term being handed down to Watts in October of 2013.
However, lawyers for Spalding and Echeverria said Internal Affairs Chief Juan Rivera blew their cover, exposing the two to constant harassment and violent threats from officers within the department.
After years of litigation, the settlement was eventually reached when the two officers approached the defendants.
"What really changed is, plaintiffs came to us, asked us to re-start settlement negotiations… They were prepared to substantially reduce their demand to settle the case," said Patton Tuesday according to the Chicago Sun Times.
READ MORE: Furious Chicago protesters say they won't leave until Mayor Emanuel does: Here's why
You can share this story on social media: