Texas floods cause blackout, mass evacuations in prisons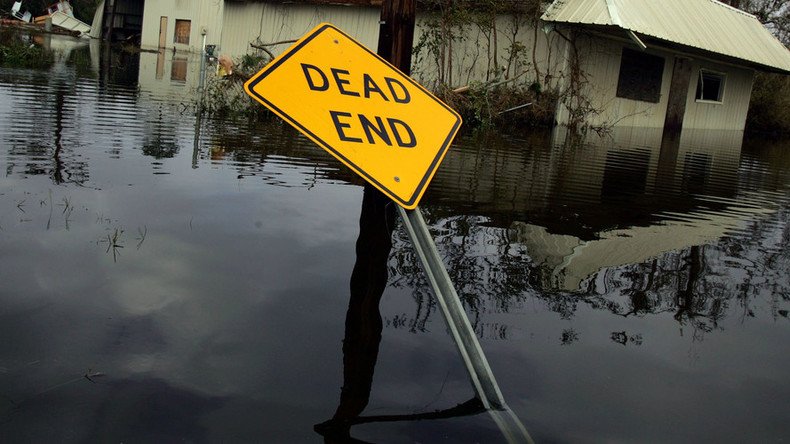 Severe floods have hit Texas prompting regional prison authorities to evacuate thousands of inmates, anticipating a deluge. In one prison, the flooding has already caused a blackout leading to a mass brawl between inmates and prison guards.
Texas prison authorities are evacuating as many as 2,600 inmates from two prisons located near the rain-swollen Brazos River citing security concerns. The evacuations began on Sunday morning in the Terrell and Stringfellow Units in Rosharon that are located around 30 miles south of Houston.
The inmates are being transferred by buses to other prisons that have available space, Texas Department of Criminal Justice spokesman Jason Clark told journalists. He also said that additional food and water was being delivered to the prisons receiving the evacuated inmates while sandbags and additional staff were sent to the prisons where flooding is expected in order to limit damage from the floodwaters.
In the meantime, in a third prison located in the same area, Ramsey Unit, inmates at the low-level security camp have been transferred to the prison's main building.
Meanwhile, flooding caused a power outage in another prison, the Luther Unit, located in Navasota that lies about 70 miles northwest of Houston. The blackout has led to a massive brawl between the inmates and correctional officers, AP reports.
Prison guard ordered the prisoners to return to their cells but some of them refused to comply. As a result, at least 50 inmates out of 1300 held in that prison engaged in the fight with the officers, according to Clark. The order has soon been restored, AP reports.
Severe floods already hit Texas on May 22-23 leaving at least eight people dead and causing damage estimated to be in the region of $5 billion. More than 1,000 homes have been affected by the catastrophic flooding, and 1,200 people are reported to have been rescued since it started.
At least three people are still missing after torrential rain in Texas and Kansas this week, AP reported.
You can share this story on social media: