Plains states brace for more bad weather following storms, tornadoes (PHOTOS)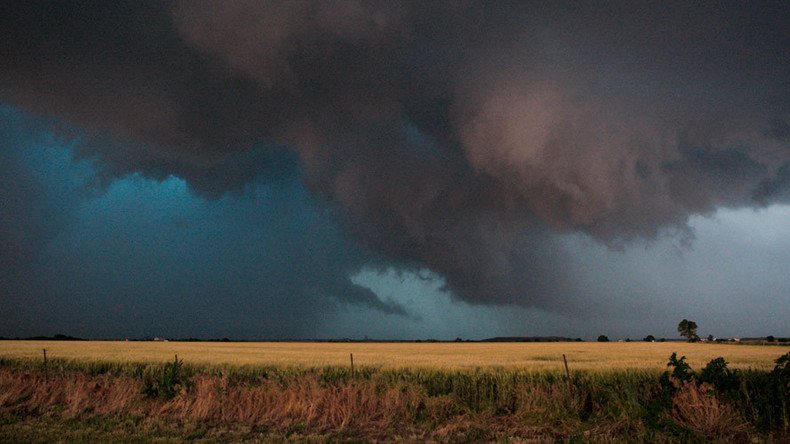 Severe weather, including tornado activity, pummeled the Great Plains on Thursday. More storms over Memorial Day weekend are expected to exacerbate flooding potential from Texas to Iowa, following rainfall that measured more than a foot in some areas.
Storm activity on Wednesday resulted in 14 tornado sightings in Kansas, Missouri, and Oklahoma, according to the National Weather Service.
Thunderstorms stretched across Kansas and Missouri on Thursday, leading to a late afternoon evacuation of the Kansas City International Airport, following a tornado warning. The airport was back in operation later that evening, according to the Associated Press.
In eastern Kansas, a half-mile-wide tornado tracked along the ground for around 90 minutes on Wednesday, traveling 26 miles, AP reported. Five tornadoes were reported in northeast Kansas the following day, while a tornado reportedly touched down near Whiteman Air Force Base in western Missouri.
Hail in Meriden, Kansas, reached 2.75 inches in diameter, according to the National Weather Service.
Thursday was the third consecutive day for tornado sightings across Kansas, Weather.com reported.
In Texas, severe storms brought more than a foot of rain in locations from Houston to Austin. Early Thursday afternoon, a possible tornado touched down near Bryan, where the mayor declared a state of disaster. Flash-flooding on Thursday evening triggered several water rescues in southeast Texas, according to Weather.com.
Areas most at risk for major thunderstorms on Friday evening range from central and coastal Texas to northern Kansas, according to Accuweather, which added that some storms could bring large hail and 70 mile-per-hour winds.
"The risk of tornadoes will be present with some of the strongest storms," said AccuWeather Enterprise Solutions Lead Meteorologist Phil Warren.
You can share this story on social media: