US Special Ops forces 'raid' downtown Tampa, Florida in search of pirates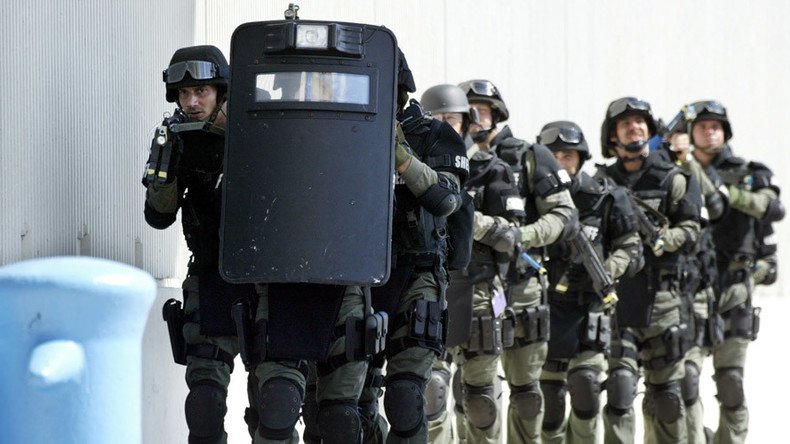 United States Special Operations Forces descended from buildings, jumped from a Black Hawk helicopter and fired shots as they ambushed downtown Tampa, Florida, where 'pirates' had 'captured' the mayor. The stunt even took place in broad daylight.
The rescue effort on was to test readiness in a crisis situation by carrying out a 30-minute drill exercise during the Special Operations Forces Industry Conference in the central Florida city Wednesday.
"To come here and showcase frankly was a little easier. It was daylight. Everything was on our terms, good weather, no bad guys; the manatees didn't interfere, no lightning, but the interoperability was already," Special Forces Lt. Col. Chris Robeshaw told reporters, according to WFLA.
Joining US Special Operations forces in the exercise were Navy SEALS, Marine Raiders and Army Green Berets, plus members from 15 other nations including Ireland and Jordan, many in make-up and disguises.
"You are just humbled to be amongst them. This is a great demo, but this is serious business for them," said rescued Tampa Mayor Bob Buckhorn who was captured by pirates in the scenario told WFLA.
The Washington Post reported "role players, dressed in black and carrying Kalashnikovs, feigned gunshot wounds as the coalition of commandos swooped in."
Unusually for a military division that ordinarily operates under the dark of night to conduct covert operations, the exercise was performed before the public who watched from the sidelines.
"I sleep better at night knowing that that's what they do," Lance Sturgis, a spectator told WFLA.
Rieka Stroh was there with her son and his two friends who were thrilled by the movie-like scenes played out in real life.
"I think the more important lesson is that they see that our military is so capable and we are a significant force in the world," Stroh told WFLA.
The rescue was used to mark the beginning of a three-day meeting of Special Operations personnel, with 12,000 expected to attend.
"A lot of what we do is a bit secretive, we don't really advertise much of what we do and there is a reason for it," Lt. Col. Robeshaw said, according to The Washington Post. "I think … this is maybe a stark reminder that there are young men and women out there putting themselves at risk."
You can share this story on social media: