Rescued: 19 people trapped in Hidden River Cave in Kentucky now safe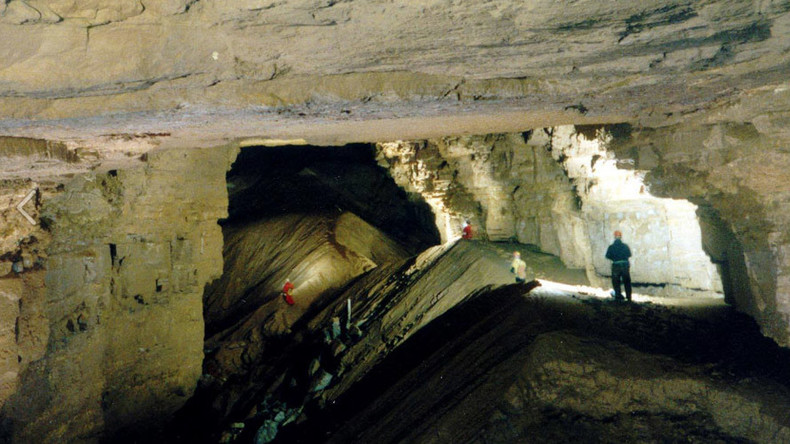 Nineteen people who had been trapped in Hidden River Cave, a subterranean attraction in Horse Cave, Kentucky, have been rescued. Flash flooding from heavy amounts of rain reportedly caused the accident.
Emergency services' management confirmed that all 19 people trapped were rescued, WBKO reported.
BREAKING: Emergency Management says all 19 people trapped in Hidden River Cave have been rescued safely.

— WBKO Television (@wbkotv) May 26, 2016
Four of the 21 people originally trapped have been freed, WBKO reported, citing Hart County Ambulance, which clarified that 17 people total are now trapped, including two Horse Cave police officers who attempted to rescue the other 15.
Hart Co Emergency Management tells me that there are 17 people and 2 Horse Cave Police officers trapped in Hidden River Cave

— Jacqueline Nie (@JacquelineWBKO) May 26, 2016
Emergency Management says the officer went down in the cave in an attempt to rescue and locate the trapped tour group

— Jacqueline Nie (@JacquelineWBKO) May 26, 2016
There is a plan in place to have the tour group make its way to a passageway until the water levels become lower, WBKO said. No rescue teams or divers are in the cave at the moment out of fear that water levels could rise further.
Some people traveled as far as four miles into the cave and emergency crews are working to locate their whereabouts, WSMV reported.
The people trapped inside the cave have the benefit of being with experienced guides and a plan of action has been prepared in case of rising water, according to Hart County EMA director Kerry McDaniel.
The county is experiencing a severe thunderstorm and is under a flood warning. McDaniel said the water is expected to rise over the next four to six hours.
"We had a torrential rain here about 2:30pm and every time we have those rains," Horse Cave Mayor Randall Curry told the Bowling Green Daily News before his cell phone cut out.
"We have everybody and his brother here trying to help us," Curry said earlier. Some cavers were able to make it out, but 18 are believed to be still inside as of 4:00pm local time, according to authorities on the scene.
The Kentucky Mesonet, a climate monitoring network, reported more than two inches of rain in Bowling Green since midnight, according to Robyn Minor, city editor of Bowling Green Daily News.
Mesonet says 2.32 inches of rain in Bowling Green since midnight.

— Robyn Minor (@bowserminor) May 26, 2016
The Hidden River Cave is hidden behind a row of shops on main street in River Cave, about 75 feet down from street level.
Hidden River Cave recently installed a zipline and rappelling, which has led to an increase in visitors, according to Bowling Green Daily News. Cave stewards have been raising funds to try to expand the length of the cave tour.