Jail punishes 3 inmates with solitary confinement for prison reforms advocacy – report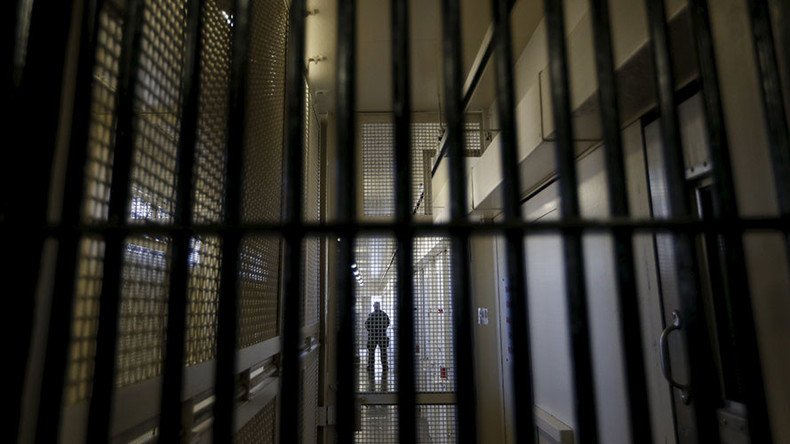 Three Massachusetts prisoners found themselves in solitary confinement, following their work with state lawmakers on prison reform, and a watchdog group doesn't believe it to be a simple coincidence.
Timothy Muise, Shawn Fisher and Steven James were handcuffed and transported from their cells at the medium-security prison Massachusetts Correctional Institution – Shirley, or MCI Shirley, to three different facilities on March 23. Prior to that, all three were questioned separately by people from the Department of Corrections (DOC).
Since then, they have been in solitary confinement nearly non-stop, with limited communication. They are allowed to make two 15-minute phone calls, have two one-hour non-contact visits per week and write letters.
Solitary Watch, an online project that tracks and reports on the use of solitary confinement across the US and the source that originally broke the story, has suggested that the extreme measure of secluding the men might be in retaliation for the past year's work to "address the root causes and symptoms of mass incarceration."
Longtime advocates for prisoners' rights and prison reform, Muise, 52, and Fisher, 44, repeatedly met with a coalition of 70 state legislators, who formed the Legislative Harm Reduction Caucus.
One of the leading members of the Caucus, Rep. Benjamin Swan (D-Springfield), described it to Solitary Watch as "a group of progressive legislators who see the need for some reform in the criminal justice system and corrections as well."
Two such meetings took place in October and February at MCI Shirley, when Muise and Fisher discussed the overuse of solitary confinement, lack of training in Massachusetts prisons, prisoners' low pay despite high fines and prices at the prison canteens and MCI Shirley's high number of deaths, which stood at 22 at the time.
They also spoke about potential reform options. Both were sanctioned by their prison's officials and attended by correctional staff. The third man, 39-year-old Steven James, did not go to those meetings, but he had been seeking prison reforms along with his friends Muise and Fisher.
At the DOC, the meetings were labeled as "Phases I, II, and III" even though the third meeting was still in planning. It was supposed to take place at the statehouse in Boston and involve inmates testifying about prison conditions.
However, Muise, Fisher and James have not had a chance to continue their activism. The DOC investigating officers accused the three men of an illegal "plot to build a computer" and placed them to solitary confinements, where they remain. So far, the DOC has failed to either provide any evidence on their accusations or explain what makes them suspect that the men could have been interested in obtaining one.
When the watchdog reached out to the DOC for a comment, it was told that Massachusetts's CORI (Criminal Offender Record Information) laws make it illegal to comment on reasons for prisoners being held in solitary confinement.
It appears that of the three men, Muise was the one hit the worst. On May, 22, two months after his initial transfer, Muise received a disciplinary report accusing him of masterminding a plot to build a computer to hack into the DOC's communications systems. He has been moved to a different cell every 30 days.
Having served nearly all of his 17-year sentence, Muise has now been labeled with "Level A Escape Status," meaning the highest flight threat.
"Level A is for people with previous escapes, escape attempts, or possession of escape tools, and does not fit me," Muise wrote. "Outrageous for any to portray that I would attempt to escape! Pure retaliation because I exercised my rights."
Muise is not a stranger to situations like the one he is facing now. In 2010, he was thrown in solitary confinement after an investigation that followed his complaints about a pervasive "sex for snitching" system of abuse within MCI Norfolk.
In the meantime, Fisher was told that he has a disciplinary report filed against him, and James had not yet received a disciplinary report.
It is unclear if their escape status designations have been changed, but as Solitary Watch reported, neither of them is a strong candidate for escape. Both men are within sight of release.
"While there is a fairly clear appearance that Tim and the others were shipped out – and now locked up – because of their involvement in the meetings with legislators, it appears that they are looking for some other basis for bringing disciplinary charges against them," Muise's lawyer, John Reinstein told Solitary Watch. "I don't think they have anything, but I can't simply say that it is based on their advocacy."
READ MORE:Serious problems uncovered at jail where activist Sandra Bland died – report
The story is reminiscent of the so-called Dallas 6 case, which has seen six black prisoners held in solitary confinement for years. They were all placed in a windowless six foot by nine foot room after blowing the whistle about widescale abuse in their prison and attempting nonviolent actions to stop it. They were charged with refusing to obey an order – a misconduct charge handled within prison.
RT spoke to Shandre Delaney, a mother of Carrington Keys, one the six prisoners, who said that her son spent more than 10 years in solitary confinement over his activism in prison.
"Once he got in the solitary, they were able to keep him in there for such a long period of time due to retaliation. They call it misconducts," Delaney said.
She said her son was starved, verbally abused with racial slurs and even found glass in his food.
"I was calling everybody, writing [to] every form of the government, but instead of them helping, what they do is send a letter that I sent them back to the prison for the prison to police themselves," Delaney said.
You can share this story on social media: