Half of antidepressant prescriptions given to people who don't have depression – study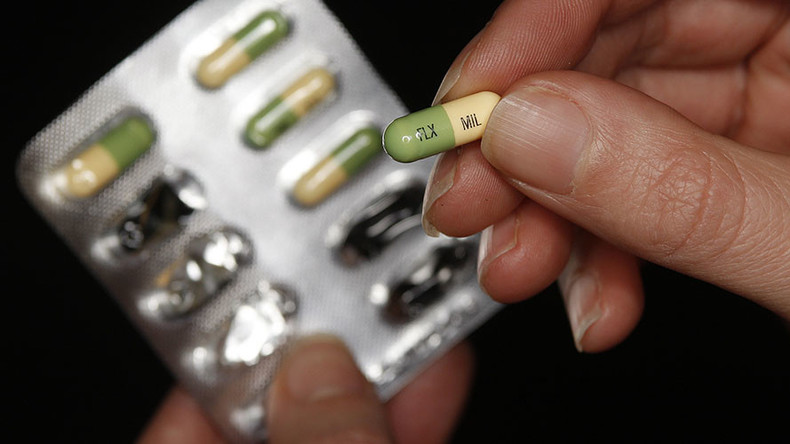 Physicians are increasingly prescribing antidepressant drugs for nondepressive conditions without approval from regulatory bodies, according to a new study. Of the 101,759 antidepressant prescriptions analyzed in the study, 55 percent were for depression.
About 10 years of electronic medical records in Quebec, Canada, analyzed by researchers in a study published Tuesday in The Journal of the American Medical Association (JAMA) showed that just more than half of the 20,000 people who received those prescriptions were receiving treatment for disorders such as anxiety (18.5 percent), insomnia (10 percent), pain (6 percent), and other conditions such as attention deficit disorders.
"The findings indicate that the mere presence of an antidepressant prescription is a poor proxy for depression treatment, and they highlight the need to evaluate the evidence supporting off-label antidepressant use," the authors wrote.
The study was led by Jenna Wong, a PhD candidate at McGill University.
"It's an interesting phenomenon," Wong said, according to Time.com. "We had heard that in the scientific community there has been a suspicion among doctors that physicians are commonly prescribing antidepressants for uses other than depression. We also found that for the major classes of antidepressants, there was an increasing prescribing trend over time."
The study pointed out that antidepressant prescriptions are increasingly given for "off-label" disorders, or conditions that have not been approved by government regulators to be treated with antidepressants.
The effectiveness of antidepressant treatment for some nondepressive indications is lacking scientific evidence, Wong said. The study "raises the question of why" doctors "are prescribing them," she said.
Wong suspects that nontraditional uses for antidepressants are linked to a lack of other clear treatment options.
"Some of these conditions are things where there is no exact treatment," Wong said, according to Time.com. "The patients may be desperate for something to treat their ailments."
The study adds more evidence to reports and data that say drugs like antidepressants are over-prescribed in the US. In a JAMA study released in November, researchers found that three in five Americans take a prescription drug, up significantly from the year 2000. The study said antidepressant use in particular has gone up dramatically since then.
The rate of antidepressant use in the US among people ages 12 and older shot up by nearly 400 percent between 1988-1994 and 2005-2008, according to a report released in 2011 by the National Center for Health Statistics.
You can share this story on social media: