'Extend American power': Foreign policy establishment doubles down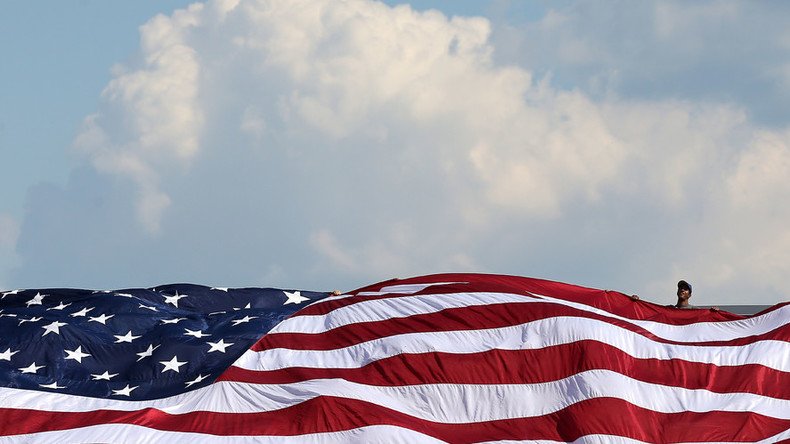 The new generation of Americans needs to be taught that US hegemony is "vital" to their well-being and global peace, and that it must be extended if world order is to be sustained, says a report by a bipartisan group of foreign policy veterans in Washington.
A working group at the Center for a New American Security (CNAS) published a 20-page pamphlet this week, articulating their vision for the next president's foreign policy. The think-tank was established in 2007, and has worked closely with the Obama administration ever since.
Titled "Extending American Power: Strategies to Expand US Engagement in a Competitive World Order," the report is the culmination of a year-long effort. The project was co-chaired by Dr. Robert Kagan of the Brooking Institution and James Rubin, former Assistant Secretary of State during the Clinton administration and currently a senior adviser at CNAS.
US military, economic and diplomatic power has "provided the critical architecture in which this liberal order has flourished," the report's authors claim, but today that order is being challenged by "powerful and ambitious authoritarian governments like Russia and China," as well as "radical Islamic terrorist movements," global economic shifts, and "changes in our physical environment."
"Responsible political leaders need to explain to a new generation of Americans how important this world order is to their well-being and how vital America's role is in sustaining it," the group says.
The best way to ensure the survival of a system favorable to the US "is to extend American power and US leadership in Asia, Europe, and the Greater Middle East."
The financial expenditures this would require are "well within our means," they say, since the US economy has proven itself to be dynamic and resilient in face of global crisis.
Implementing the Trans-pacific Partnership (TPP) and Transatlantic Trade and Investment Partnership (TTIP) trade pacts will preserve US economic leadership, the authors concluded.
In Asia, Washington's alliances with Japan and South Korea and the commitment to "maintaining open sea lanes, open trade, state sovereignty and freedom of navigation" have "made possible generations of historic peace and prosperity." However, the report says that dominance is now being challenged by China – the authors do not explain why – and the only way to keep Beijing in check is for the US to "increase its capabilities and extend its military posture accordingly."
Ukraine, Russia and Brexit
As far as Europe is concerned, "the transatlantic community remains both the foundation and the core of the liberal world order," but that is now threatened by "growing Russian ambition and willingness to use force, including the invasion of neighboring countries," the report claims.
European commitment to US hegemony is also threatened by "British strategic retrenchment, French economic weakness, and historic German strategic ambivalence in the security sphere."
The report fully backs deploying more US and NATO troops on Russia's borders, while getting European allies to increase their military spending.
For all of Washington's official commitments to freedom of sovereign states to choose their own paths, the CNAS report argues that the "strategy of the United States and Europe must be to help Ukraine achieve political and economic stability, anchored in the West."
"The United States has a particular interest in Britain remaining a strong and active player within the EU," the authors also say.
ISIS, Syria and Iran
In the Middle East, the report's authors argue for a military escalation against Islamic State (IS, formerly ISIS/ISIL) and regime change in Syria.
Any political solution to the Syrian civil war "must include the departure of Bashar al-Assad," they say. To accomplish this, the US "must employ the necessary military power, including an appropriately designed no-fly zone, to create a safe space in which Syrians can relocate without fear of being killed by Assad's forces and where moderate opposition militias can arm, train, and organize."
While not giving up on the nuclear deal reached with Iran in July 2015, the US "must adopt as a matter of policy the goal of defeating Iran's determined effort to dominate the Greater Middle East," the CNAS paper said.
While accusing Iran of "demonizing" US ally Saudi Arabia, the authors do note that the Saudi elites "bear much responsibility for the growth of extremist ideologies that promote intolerance and Jihadi terrorism," by spreading Wahhabism throughout the Islamic world.
Establishment figures
To achieve these ambitious goals, the report's authors advocate against concentrating policymaking authority in the National Security Council and, instead recommend giving more power to "regional assistant secretaries of state," for example, who "need to be given the power and authority necessary so that when they travel overseas they are regarded as the key administration policymakers and spokespeople for their regions."
One of the co-chairs of the group behind the report, Robert Kagan, last made headlines in February, when he disavowed Republican front-runner Donald Trump and endorsed Hillary Clinton on the pages of the Washington Post. He is the co-author of a 1996 treatise advocating the "benevolent global hegemony" of the US, and is married to Assistant Secretary of State for European and Eurasian Affairs Victoria Nuland.
Among those who signed the report are CNAS CEO Michèle Flournoy and President Richard Fontaine; George W. Bush's National Security Advisor Stephen Hadley; former World Bank president and Goldman Sachs executive Robert Zoellick (currently senior fellow at Harvard's Kennedy School of Government); and James Steinberg, Dean of Syracuse University's Maxwell School of Citizenship and Public Affairs.
You can share this story on social media: