KKK hood-wearing lawyer arrested for threatening LA council president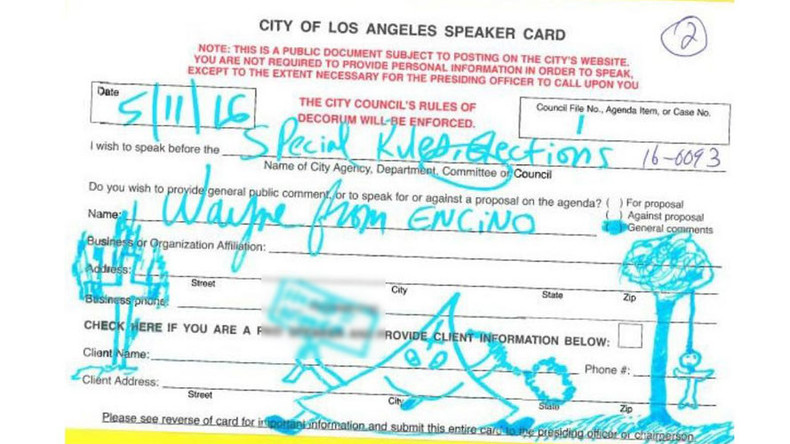 Limits to freedom of expression in the US are being tested with Los Angeles lawyer Wayne Spindler, known for attending public meetings in a Ku Klux Klan hood with a swastika, facing charges for his racist comment card about African-American council president Herb Wesson.
Spindler is suspected of making criminal threats for submitting the card at a May 11 council meeting with crude drawings of a burning cross, a person hanging from a tree, and a Ku Klux Klan member holding a sign reading "Herb = Ni**er."
Wesson took the card as a threat and told the LA Sentinel that harassment from Spindler had become worse over time and has now "risen to the point that I have serious concerns about my safety, my family's safety, my staff's safety and the safety of my colleagues on the city council.''
Spindler, a 46-year-old immigration lawyer, was arrested and released the same day on $75,000 bail.
He claimed to KABC that the drawings were not of Wesson.
"The cross burning is the city burning down from corruption, the hood is city hall coming after us for our money and the tree is me and everybody getting lynched as taxpayers," he said.
When asked why he used the racial slur directed at Wesson, Spindler said, "They don't listen to us. The only way they listen to us is if we're emphatic."
Spindler, who plans to fight the charges and sue the city, said he is not racist and does not identify with the KKK.
He caused outrage at meetings before, including the occasion when he wore the infamous KKK-Nazi hood hybrid, but was protected under the US Constitution's first amendment.
"This is the kind of verbiage we get on a routine basis as LA City council and one of the characters finally put it in writing so now we have proof that this is the kind of abuse that residents, constituents and council members and staff take on a regular basis," LA City Councilman Marqueece Harris-Dawson told KABC.
READ MORE: KKK tries to hijack Martin Luther King Day by distributing hateful recruitment flyers
Wesson, the first African-American to serve as council president, held a press conference Thursday where he vowed to take a stand against hate speech.
"As a young man, I sat in the kitchen table of my grandmothers and I heard them tell my aunts and my uncles of liquored-up Klansmen running through the south, terrorizing black people," Wesson said.
This month's incident isn't the first time KKK symbols have been seen at an LA city council meeting.
Michael Hunt was removed from a Parks and Recreation meeting in 2014 after he entered decked out in full Klan attire.
The racist provocateur filed a lawsuit against the city for his removal on freedom of speech grounds and settled with the city for $215,000, money which could have been used for improving playgrounds for children or providing free mental health care to victims of hate crimes and violence.