US is 'under-incarcerated,' should lock more people up – GOP senator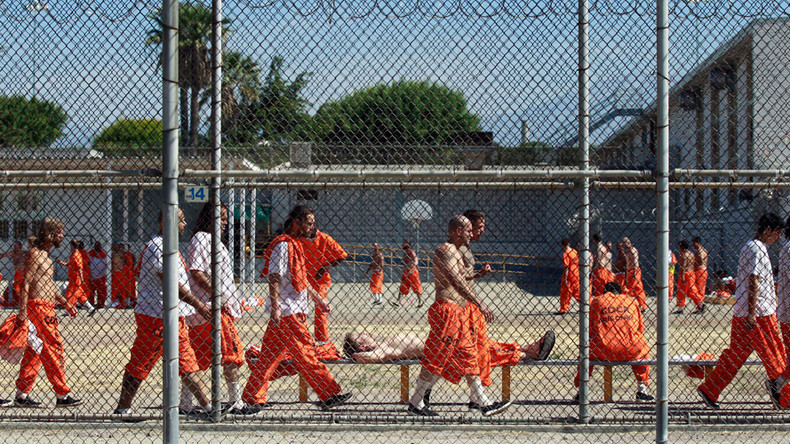 Despite having the world's biggest inmate population and second-highest incarceration ratio, the US should send more offenders to jail, Republican Senator Tom Cotton has said, adding that freeing inmates would make the US like Iraq.
In an attack on proposed criminal justice reforms, Cotton criticized bipartisan efforts to address America's overpopulation of prisons by reducing mandatory minimum sentences for non-violent crimes. He said the bill proposing the move was "dead in this year's Senate," and went on to dismiss the justification for the motion by arguing that America should incarcerate more people, rather than fewer.
"The claim that too many criminals are being jailed, that there is over-incarceration, ignores an unfortunate fact: for the vast majority of crimes, a perpetrator is never identified or arrested, let alone prosecuted, convicted, and jailed," Cotton said during a Thursday speech at The Hudson Institute
He added: "Law enforcement is able to arrest or identify a likely perpetrator for only 19 percent of property crimes and 47 percent of violent crimes. If anything, we have an under-incarceration problem."
As of the end of 2014 there were over 2.3 million inmates in America, including federal, state and local prisons and juvenile correction facilities, according to the Bureau of Justice Statistics.
The latest rankings from the Institute for Criminal Policy Research at Birkbeck, University of London, places the US as the nation with largest prison population in the world. Per capita it has more inmates than any other country in the world except the Seychelles, a tiny island nation that has about 90,000 citizens.
Cotton said reducing punishment for crimes would inevitably result in rising crime rates.
"I saw this in Baghdad. We've seen it again in Afghanistan," recalled Cotton, who served tours in both Iraq and Afghanistan. "Security has to come first, whether you're in a war zone or whether you're in the United States of America."
Instead of sending fewer people to prisons, the conservative senator said the facilities should be enlarged.
"I will, though, happily work with my colleagues on true criminal-justice reform – to ensure prisons aren't anarchic jungles that endanger both inmates and corrections officers, to promote rehabilitation and reintegration for those who seek it, and to stop the over-criminalization of private conduct under federal law," Cotton said. "But I will continue to oppose any effort to give leniency to dangerous felons who prey on our communities."
Responding to Senator Cotton's comments, fellow legislator Charles Grassley, who chairs the Senate Judiciary Committee, called them an unfunded attack and said the bill has strong support from law enforcement.
"The opponents of the Sentencing Reform and Corrections Act will stop at nothing to derail a historic bill aimed at safely and sensibly reducing excessive sentences while preserving important law enforcement tools to take down large criminal organizations," the Iowa Republican said, as cited by the Washington Post. "We continue to make progress with the bill and remain hopeful that it will be considered by the full Senate."
The US criminal justice system has mandatory minimum terms for many crimes. Critics, including serving judges, say the system allots harsh punishments for minor offences, and often results in pushing to a career of crime people who would go on the straight and narrow if they received a suspended term for their offenses.