25-yr US sentence for Russian 'Lord of War' Viktor Bout inappropriate – judge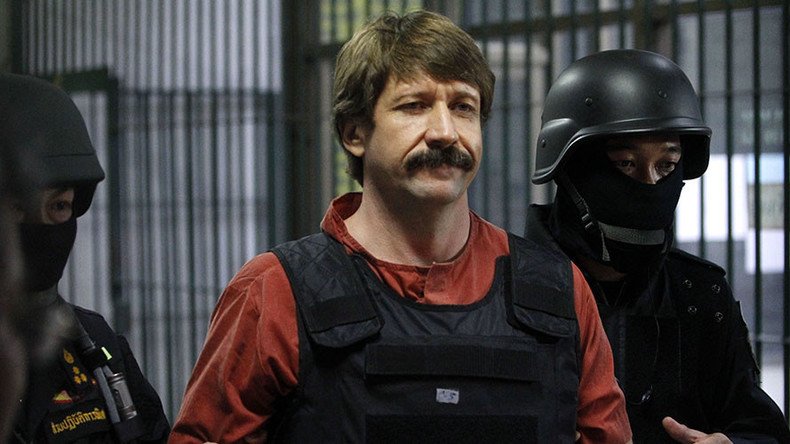 The 25-year sentence for Viktor Bout was excessive and inappropriate, said the judge who passed the verdict. The man was arrested in Thailand after an elaborate sting operation and convicted of a conspiracy to kill Americans.
One of the charges brought against Bout carried a mandatory 25-year minimum sentence, and was what Judge Shira A. Scheindlin imposed on him in 2012. In an interview with the New York Times, she said it was excessive and inappropriate.
At the time of the sting operation, Bout was "pretty well retired," she said. "The question was, 'Was he still an international arms dealer, and does that matter?'"
"I'm not defending him," Scheindlin said, "but he's a businessman. He was in the business of selling arms." He was not, she added, a fighter or a terrorist from Al Qaeda "who lives to blow up civilians in a supermarket."
Bout was approached by American DEA agents posing as members of the militant group called the Revolutionary Armed Forces of Colombia (FARC). They negotiated a deal to sell surface-to-air missiles, explosives and machine guns. He was then arrested by Thai authorities and extradited to the US to stand trial. Records of the negotiations were the key evidence in the case.
The jury decided that Bout knew the weapons would be used to kill American citizens and was guilty of conspiring to murder. Prosecutors asked for a life sentence for him, but Judge Scheindlin said at the time there was no evidence that Bout would have committed any crime if he were not targeted by the sting operation.
"They reeled this guy in," she said in the NYT interview. "They offered him a lot of money."
She added: "I gave the lowest sentence I could possibly give."
The words of the judge confirm "that the case was staged by secret services and the prosecutors under the American anti-terrorism laws," Bout's wife, Alla, told RIA Novosti.
"The independent and principled judge was forced to choose between a 25-year term and a life sentence and couldn't go beyond them even though she understood that the punishment she had to pass was inadequate to the things he did, according to the prosecutors and the jury," she said.
Scheindlin compared Bout's case to another sting operation, in which four men were arrested for conspiring an attack at a National Guard base in Newburgh and synagogues in Bronx. A FBI informer, who had posed as a Pakistani terrorist, reportedly played a major role in luring the defendants into the plot.
"You entice them with real money and benefits," Scheindlin said, and the men eventually "do convict themselves" with incriminating statements.
"But," she said, "you sort of feel if they were never approached and urged on, they didn't have the brains or the wherewithal to pull this off."
Judge Scheindlin is best known for her key 2013 ruling that New York City's notorious stop-and-frisk policy violated the rights of minorities. She is currently preparing to step down after serving 22 years as a federal district judge in Manhattan.
You can share this story on social media: