US plays down claims of 'unsafe' jet intercept, after China takes umbrage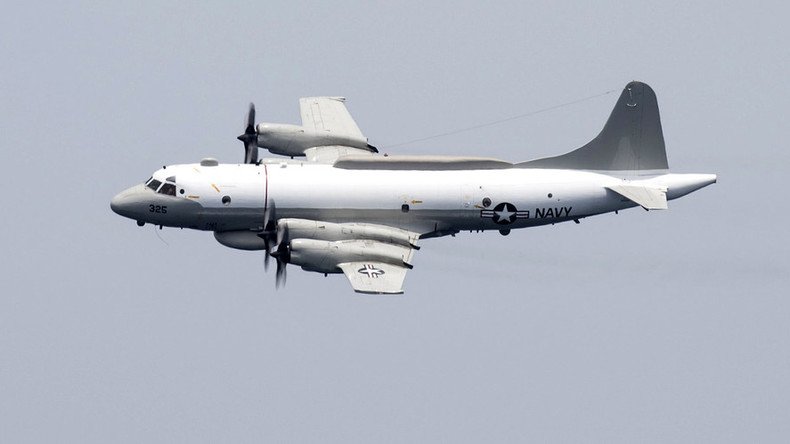 The White House is trying to defuse a row with Beijing since claiming its jets intercepted a US surveillance plane over the South China Sea at an "unsafe" distance. China has rejected the accusations and called on the US to stop spying near its territory.
"Over the course of the last year, the Department of Defense has seen improvements in the way that Chinese military pilots fly, consistent with the international guidelines and consistent with the way that aircraft can be operated in a safe and professional manner," said White House press secretary Josh Earnest, when questioned about the incident on Tuesday.
The Pentagon claimed earlier that China's J-11 Shenyang fighter planes had flown within 50 feet of a Navy EP-3 Orion surveillance plane on a routine mission over international waters on Tuesday.

Earnest refrained from finger-pointing, however.

"So there is a well-established diplomatic and military channel to work through these kinds of concerns. Presumably, in those channels, the Chinese officials can explain their perspective and what exactly occurred," he told the press corps in Washington.

A few hours earlier, China had issued a statement blaming the United States for the incident, without directly contradicting the Pentagon's distance claims.

"American military vessels and aircraft frequently engage in surveillance in close proximity to China's coastal waters, and this constitutes a grave threat to China's security on land and sea," Chinese foreign ministry spokesman, Hong Lei, said during a scheduled press briefing in Beijing. "China requests that the United States immediately halt this kind of close-proximity surveillance, thereby avoiding the recurrence of such incidents."
Hong did not elaborate on exactly what had happened during the close encounter, but refuted allegations that Chinese pilots had endangered the American crew.

"The American claims are not factual," Hong said to gathered reporters. "Two Chinese jet fighters engaged in tailing and surveillance in keeping with laws and regulations, and they always maintained a safe distance. They did not take any dangerous actions. Operationally, they were totally in compliance with professional and safety standards."

Tensions have been rising between the two powers, as China attempts to strengthen its grip on the South China Sea, a disputed but economically vital sea lane in the region, while, at the same time, the US is attempting its "Asian pivot" to secure more influence in the region.

Last week, the Chinese air force scrambled its jets when a US Naval destroyer passed near an outcrop that the rising Asian power has been rebuilding into a fortress.

However, the worst diplomatic incident over the past two decades occurred in 2001, when a Chinese plane collided with a US aircraft, resulting in the death of the Chinese pilot, and a months-long war of words between Washington and Beijing.
You can share this story on social media: