'Unsafe': Chinese fighter jets intercept US military spy aircraft over South China Sea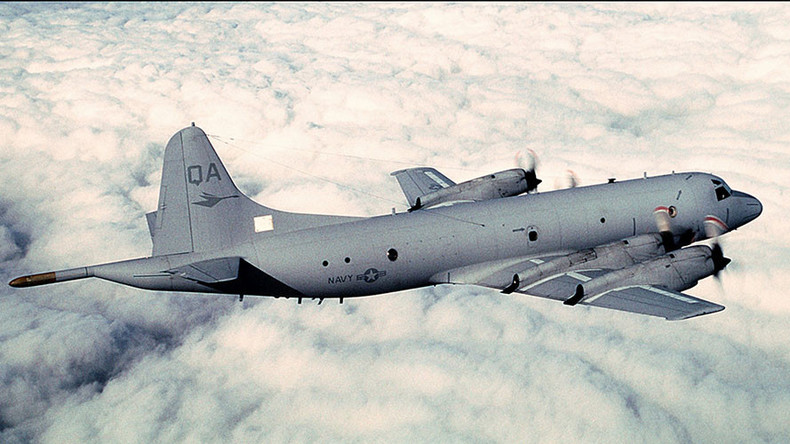 Two Chinese military jets "unsafely" intercepted an American reconnaissance plane patrolling over the the South China Sea on Tuesday, according to Western media reports citing Pentagon's official.
"Two tactical [J-11s] aircraft from the People's Republic of China" intercepted the Navy EP-3 Orion, a US maritime reconnaissance aircraft, which was on a "routine patrol" in international airspace, Defense Department spokesperson Lieutenant Colonel Michelle Baldanza told NBC News.
The Chinese jets flew by the US aircraft at a distance of approximately 50 feet (15 meters). "Initial reports characterized the incident as unsafe," Baldanza said.
The US Pacific Command is in charge of investigating the incident.
The confrontation comes amid heightened China-US tensions over three disputed islands in the South China Sea. US ally Japan has contested China's right to the island chain, which is also claimed by Taiwan. The standoff has been fueled by the area's natural resources, as well as China extending its Air Defense Identification Zone (ADIZ) over areas claimed by neighboring states for their own ADIZs. China argues that Japan unfairly and unilaterally declared its ADIZ in 1969, and accuses the US and other Western critics of having double standards.
Beijing has repeatedly warned the US against interfering in the region, while Washington has vowed to ignore China's ADIZ when conducting its military missions and to support Japan's claims.
At the same time, Baldanza said that instances of interception such as the one on Tuesday have become relatively rare as of late, noting that the situation has improved over the past year.
"DoD has seen improvements in PRC actions, flying in a safe and professional manner."
In April, China accused the US of "sabotaging regional peace" after the Pentagon's chief announced plans for a US military buildup in the Philippines.
The Chinese Foreign Ministry said in a statement that military collaboration between foreign countries should not challenge China's sovereignty and security.
The South China Sea is believed to contain large oil and gas deposits.