State Dept gets around to outlawing ISIS in Libya, Yemen, Saudi Arabia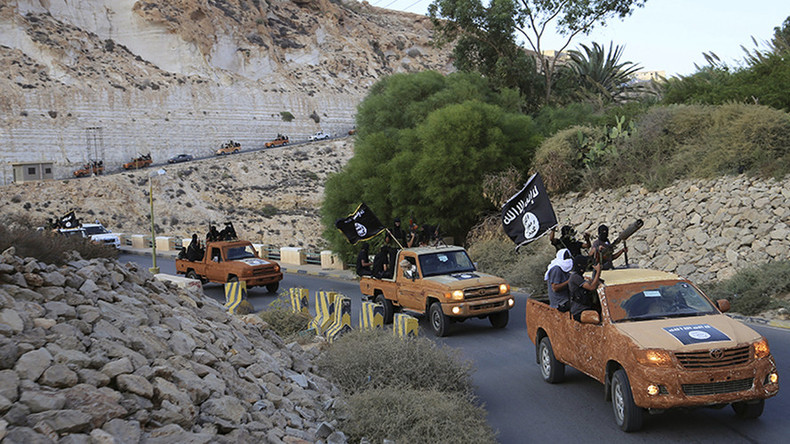 It took them long enough, but the US Department of State officially designated Islamic State branches in Libya, Yemen and Saudi Arabia as terrorist organizations. The designation means US sanctions and penalties for anyone involved with the groups.
As of Thursday, the Islamic State (IS, formerly ISIS/ISIL) branch in Libya has been classified as a Foreign Terrorist Organization, the State Department announced. The US is also classifying IS branches in Libya, Yemen and Saudi Arabia as "Specially Designated Global Terrorists under Section 1(b) of Executive Order (E.O.) 13224."
"The consequences of the FTO and E.O. 13224 designations include a prohibition against knowingly providing, or attempting or conspiring to provide, material support or resources to, or engaging in transactions with, these organizations, and the freezing of all property and interests in property of these organizations that is in the United States, or come within the United States or the control of US persons," the State Department said in the announcement.
The timing of the announcement is a little puzzling, especially since the announcement itself noted that "ISIL-Yemen, ISIL-Saudi Arabia, and ISIL-Libya all emerged as official ISIL branches in November 2014" after the self-proclaimed Caliph Abu Bakr al-Baghdadi announced he had accepted oaths of allegiance from groups in these countries.
"While ISIL's presence is limited to specific geographic locations in each country, all three ISIL branches have carried out numerous deadly attacks since their formation," the State Department noted, bringing up several incidents of suicide bombings and executions.
Today's announcement means the State Department has now sanctioned eight "branches" of Islamic State altogether, including groups in Sinai, Algeria, North Caucasus and "Khorasan," as well as Jund al-Khilafah in Algeria and Boko Haram in Nigeria.
On Sunday, IS claimed responsibility for a suicide attack in Mukalla, Yemen that killed at least 37 people. The port city on the Red Sea was recently captured by the Saudi-led coalition operating in Yemen, aided by US forces sent specifically to battle Al-Qaeda in the Arabian Peninsula (AQAP) militants.
In Libya, IS has claimed control of a stretch of central coastline between Tripoli and Benghazi. Western countries that had aided the 2011 armed rebellion that overthrew the Libyan government and plunged the country into chaos are now contemplating sending weapons and even troops to the North African country. Some prominent security experts are not convinced that would be a good idea, however.
"IS flourishes in the face of attacks from the West, which help it present itself as the one true guardian of Islam under attack from the Crusader/Zionist axis," Bradford University Professor Paul Rogers told RT UK. "The more it is attacked, the stronger its image."
You can share this story on social media: