Libertarian Gary Johnson picks former Massachusetts governor as running mate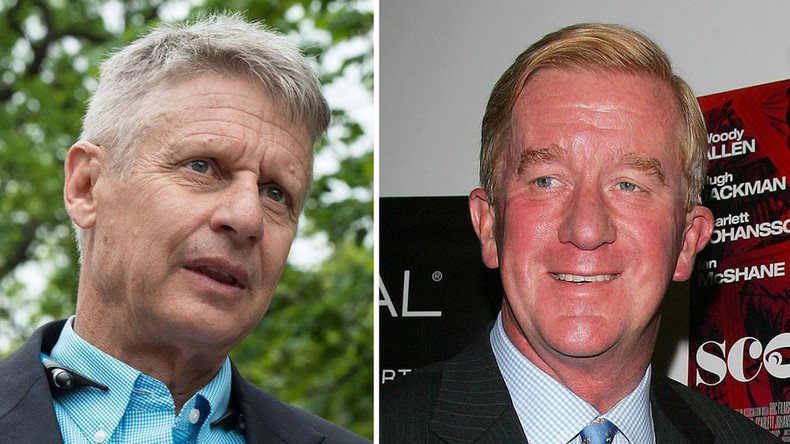 Two former Republican governors have teamed up to challenge the two-party system: former New Mexico Gov. Gary Johnson has selected former Massachusetts Gov. William Weld as his running mate on the Libertarian Party ballot.
Johnson, who is the presumptive nominee on the Libertarian ticket, said Thursday that Weld would be his running mate.
Weld served as the governor of Massachusetts for two terms, between 1991 and 1997, as a Republican. The two accomplished mainstream politicians joining forces could bring an unprecedented amount of credibility to a third party run.
"We got together and shook hands on it," Johnson told the Associated Press, who first reported on the news. "It brings an enormous amount of credibility to what it is I'm doing. I'm unbelievably flattered by this and humbled."
Though he served as a Republican in high public office, the 70-year-old Weld neatly fits into the libertarian mold: he favors a hands-off approach to government and markets while also supporting same-sex marriage, abortion rights and medical marijuana.
Weld will also be an asset in a cash-strapped Libertarian campaign due to his extensive fundraising experience, Johnson told AP.
This election season could be the perfect storm for third parties to break out of obscurity. The choice between the major Hillary Clinton and Donald Trump, both of whom have historically low favorability ratings, is seen as a choice between two evils by millions of Americans.
"The nature of partisan identification is changing," Steven Webster, a political science PhD candidate at Emory University, told RT America earlier this month. "It used to be the case that we had positive attachments to parties. So, 'I'm a democrat because I like their policy positions,' or 'my parents were both Democrats.' That's not the case anymore. What we're seeing is that people are motivated by their feelings of negativity towards the opposing party."
Johnson earned only one percent of the popular vote in his 2012 Libertarian Party presidential bid, but he recently told CNN that he will likely be the only third-party candidate on the ballot in all 50 states, alongside the Republican and Democratic nominees.
You can share this story on social media: