'In lieu of flowers': Dead Americans vote via obituary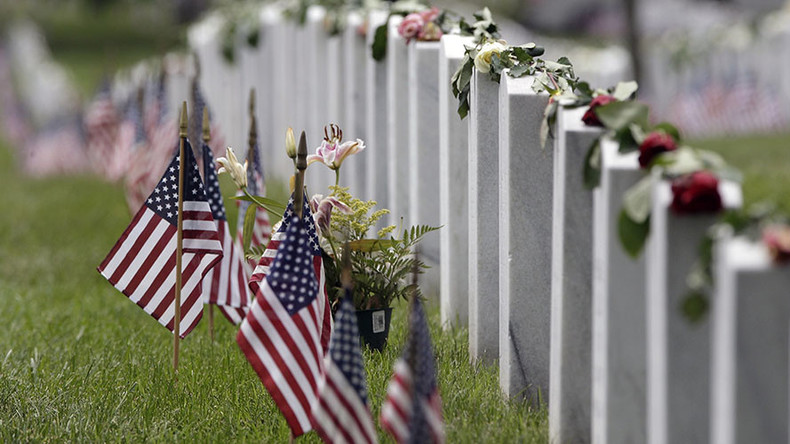 The presidential campaign has hit new lows… six feet under, in fact. Throughout the election cycle, the newly deceased have made their political final wishes known not through the ballot box (except maybe in Chicago), but through their obits.
When Mary Anne Noland, 68, died on Sunday, her family decided to blame not her long battle with lung cancer, but the vitriolic race for the White House.
"Faced with the prospect of voting for either Donald Trump or Hillary Clinton," one of her sons wrote in her Richmond Times-Dispatch obituary, she "chose, instead, to pass into the eternal love of God."
The opening line of the memoriam wasn't intended as a parting shot at the leading presidential candidates, Noland's widower Jim told WWBT. Instead, it was a way to express her feisty sense of humor.
Mary Anne ‒ or her family, rather ‒ was far from the first to issue voting directives from beyond the grave.
Some people are "with her" and want their survivors to vote for Clinton, the frontrunner in the Democratic race for president. The December obit for David Arons, 97, said that "his biggest regret would be not living long enough to vote for Hillary Clinton." Arons asked friends and family to "perhaps… consider helping fulfill his last wish by voting for Hillary themselves ‒ to benefit succeeding generations for which he cared so much, and for the welfare of the nation he served so honorably."
Others are all about making America great again, and ask their mourners to support Trump, the presumptive Republican nominee.
Yet the deceased are growing increasingly concerned with what people shouldn't do after they're gone, and their final wishes ask people to refrain from voting from one or the other candidate.
Dorothy Revell Anderson, 97, was not about Clinton when she passed March 12. Same with 63-year-old Elaine Fydrych and Richard Buckman, 75, both of whom died last August. The family of Larry Upright, 81, "respectfully asks that you do not vote for Hillary Clinton in 2016," they wrote in his April obit.
"We did this for him," son Mike Upright told WSOC. "He had nothing to do with it other than voicing his opinion time after time after time."
On the other hand, Jeffrey H. Cohen, 70, and Katherine Michelle Hinds, 34, might have loved the #NeverTrump crusade. In both of their obituaries it reads, "in lieu of flowers, please do not vote for Donald Trump."
We're sure that Trump would only have one reaction to the ghosts who are railing against him: "Sad!"
Of course, in Chicago, the dead voting is just business as usual.