'Smile' sparks wild Mother's Day restaurant brawl between patrons and staff (VIDEO)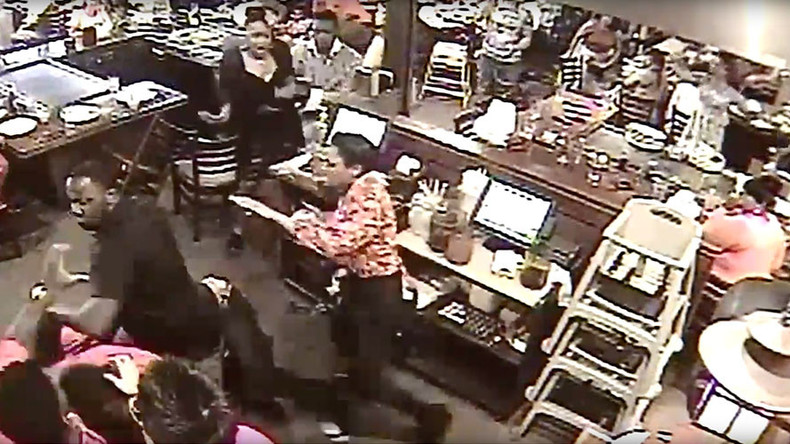 Four people received disorderly conduct citations following a massive Mother's Day brawl at a Japanese restaurant in Atlanta, Georgia.
Plates, trays, and serving carts were thrown across the restaurant during the fight at Kiku Japanese Steakhouse.
East Point Police identified four of the men involved in the fighting from video captured at the scene.
CCTV and cell phone recordings of the incredible altercation between restaurant staff and a group of angry customers show the frenzied fight from a variety of angles.
Devecc Bilingslea, 26, Zacarli Dalcoe, 25, Willis Jumario Hall, 26, and 21-year-old Demonte Harrison were all cited for the May 8 brawl, which erupted because of a smile, according to a police report seen by the Atlanta Journal-Constitution
READ MORE: Huge all-in brawl at Armenian-Azerbaijani Kung Fu fight (VIDEO)
The report states that Harrison, who worked as busboy at the restaurant, was cleaning tables when a female customer "berated" him for smiling.
Harrison allegedly responded by saying, "It's my job to smile," which was reportedly when Hall, the woman's brother, punched the busboy right in the face.
The situation quickly escalated into a chaotic all-out brawl that drew in both Bilingslea and Dalcoe, who are relatives of the woman, as well as several other people who were not identified in the report.
The restaurant owner told WSB TV2 that the incident cost the business $5,000 dollars between damage caused in the fighting and patrons who left without paying during the chaos.