'This is nonsense': Sanders dismisses Democratic criticism of protests at Nevada convention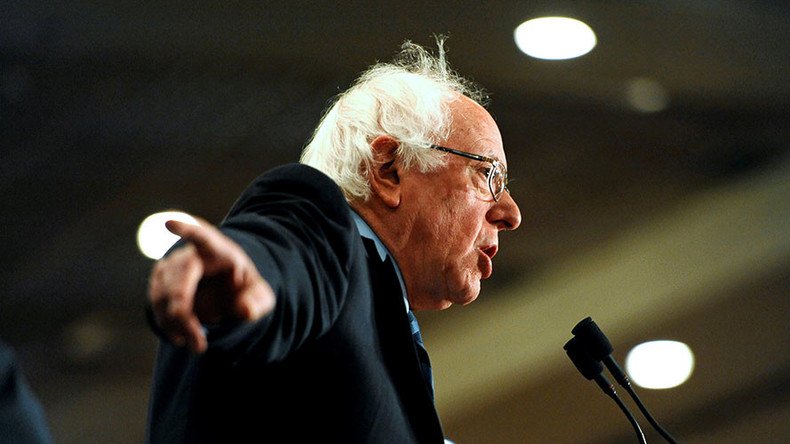 Senator Bernie Sanders issued a stinging rebuke to the Democratic Party's leadership for criticizing his supporters' protests at the Nevada convention last weekend, saying it had used its power "to prevent a fair and transparent process from taking place."
"Within the last few days, there have been a number of criticisms made against my campaign organization. Party leaders in Nevada, for example, claim that the Sanders campaign has a 'penchant for violence.' That is nonsense. Our campaign has held giant rallies all across this country, including in high-crime areas, and there have been zero reports of violence," wrote Sanders in a statement released on Tuesday.
Sanders condemned all forms of violence, but reminded party leaders that shots were fired at his office during the campaign in Nevada, and the apartment housing where his staff was living was "broken into and ransacked."
The Associated Press reported that Saturday's Nevada Democratic Party convention "turned into an unruly and unpredictable event" when Sanders supporters protested convention rules that ultimately led to Hillary Clinton winning more pledged delegates. Supporters threw chairs, shouted down speakers, and later allegedly harassed state party chair Roberta Lange with death-threat phone calls.
Clinton won the state's caucuses in February, 53-47, but Sanders backers had hoped to pick up extra delegates by packing county and state party gatherings.
Democratic leaders have pressed Sanders to denounce the disruption, with Senate Democratic Leader Harry Reid (Nevada) telling The Hill that he had spoken to Sanders for 10 minutes on Tuesday. Reid later criticized Sanders' statement for being "silly."
"Bernie should say something – not have some silly statement," Reid told CNN. "Bernie is better than that. …I'm surprised by his statement. I thought he was going to do something different."
Sanders said in his statement that for the Democratic Party to be successful in the November general election, state parties need to treat his campaign supporters "with fairness and respect." He also made this case during state the conventions in Maine, Alaska, Colorado and Hawaii.
"Unfortunately, that was not the case at the Nevada convention. At that convention the Democratic leadership used its power to prevent a fair and transparent process from taking place," Sanders stated.
Sanders also slammed Nevada's Democratic Party Chairman, Roberta Lange, for announcing that the convention rules passed on a voice vote of yes, when they had clearly been rejected.
Sanders argued that the chair should have at least conducted a head count.
"The chair allowed its Credentials Committee to en mass rule that 64 delegates were ineligible without offering an opportunity for 58 of them to be heard," wrote Sanders. "That decision enabled the Clinton campaign to end up with a 30-vote majority."
He also said the chair had refused to acknowledge or allow votes on any motions made from the floor or accept any petitions proposing amendments to the rules.
"These are on top of failures at the precinct and county conventions, including trying to depose and then threaten with arrest the Clark County convention credentials chair because she was operating too fairly," said Sanders in ending his statement.
You can share this story on social media: