If you go down to the woods today: Bear family goes viral (VIDEO)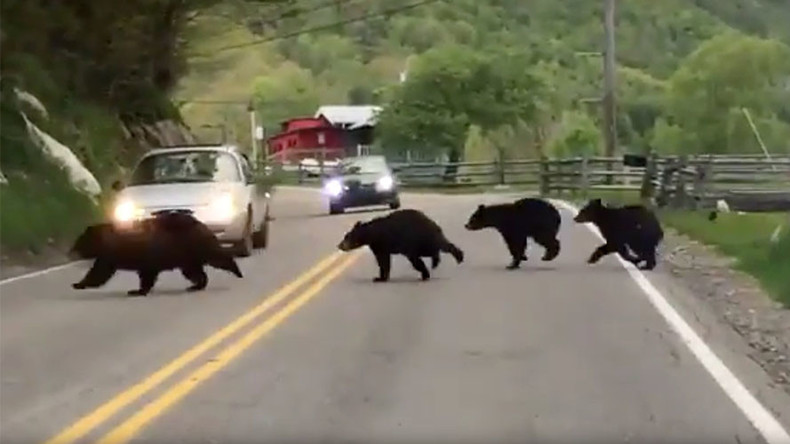 Why did a family of bears cross the road? The world may never know the answer, but they sure were very cute while doing so. A video recorded in North Carolina shows a mama black bear with her four cubs running into the woods.
A video posted to the Grandfather Mountain page on Facebook is delighting the internet. With roughly 954,000 views at the time of publishing, this real life Bernstein Bear family has drawn attention to the small town of Banner Elk, North Carolina.
As of the 2010 census, Banner Elk was home to a mere 1,028 human residents. Travis Platek, son of a tour coordinator for Grandfather Mountain, captured the adorable crossing when he stopped to film the bears crossing the road – and also to avoid running them over, according to Mashable.
The furry forest denizens were specifically identified as American black bears. It is estimated that at least 600,000 of them live in North America, foraging around in at least 40 states, according to Defenders of Wildlife. This bustling family is somewhat unique because, while a mother can have a litter of from one to six cubs, the most common size is two.
With black bears so common, it is not unlikely that residents of North America may come across one at some point in their lives. Should this happen, the US Forest Service asks tourists not to take selfies with them.