Disabled inmate who stole $5 in snacks 'starved to death' in Virginia prison – lawsuit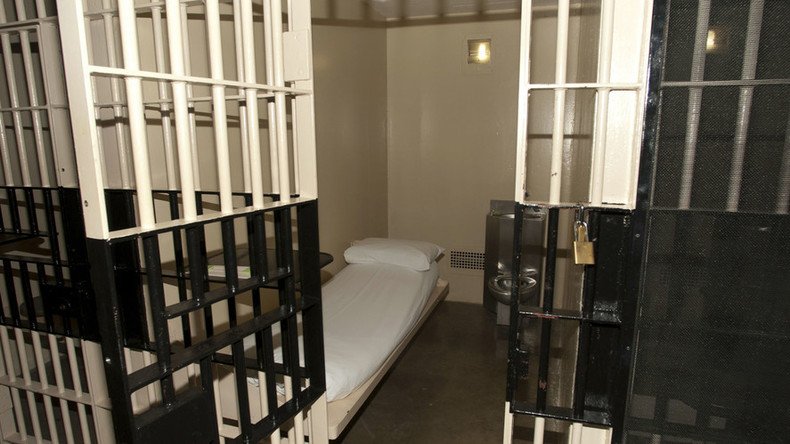 A mentally disabled Virginia man accused of stealing $5 worth of snacks from a convenience store was often left in isolation, without water in his cell, and essentially starved to death, according to a lawsuit from his family.
Twenty-four-year-old Jamycheal Mitchell was arrested in Portsmouth, Virginia in April 2015 for stealing a bottle of soda, a candy bar and a snack cake worth $5.05. After he was taken to jail and ruled unfit to stand trial – Mitchell suffered from bipolar disorder and schizophrenia, and was described in school records as mildly "mentally retarded" – he nevertheless remained in jail for four months instead of being transferred to a hospital.
In August 2015, Mitchell was found dead in his cell, having lost 40-50 pounds. A medical examiner found that he was "nearly cachectic," meaning he had lost so much weight that the process couldn't be reversed nutritionally.
"Their beloved Jamycheal, despite his struggles with mental illness, had been a vibrant young man who loved music and always made people laugh. In his place was a withered figure the family could hardly recognize," reads the lawsuit recently filed by Mitchell's aunt, Roxanne Adams.
According to the lawsuit, Mitchell was called "very psychotic – delusional" during a medical screening at Portsmouth City Jail after his arrest. Screeners also noted that his "thought process does not make sense." When he was transferred to Hampton Roads Regional Jail (HRRJ), another psychological evaluation stated Mitchell was manic and psychotic, and that he could not help a legal team prepare a defense for him in court.
"Mitchell's thought processes were so confused that only snippets of his sentences could be understood, the rest were mumbled statements that made no rational sense," the evaluation stated, according to the lawsuit.
Mitchell was ordered to be transferred to Eastern State Hospital for treatment to restore his competency. However, he was never moved and remained at Hampton Roads jail until his death on August 19. Officials said there were no hospital beds available, but an investigation by the Office of the State Inspector General showed that between the time the transfer order was issued and the time Mitchell died – about three months – "there was only one day when all beds were full."
The report found that the transfer order was faxed to the hospital more than two months after it was issued. Instead of processing it, though, the admissions coordinator placed it in her desk drawer and took no further action. According to a report from WKTR, the order wouldn't be seen again until five days after Mitchell died.
Meanwhile, Mitchell is alleged to have suffered from a number of abuses at Hampton Roads jail. One inmate stated that he would only get one meal a day, or one meal every several days, the lawsuit alleges, and that Mitchell's dramatic weight loss was "never adequately addressed" by authorities.
Officials at the prison said the weight loss was Mitchell's own fault because he wouldn't eat, the lawsuit claims, but inmates said Mitchell ate "ravenously" when he was given food.
By the time he died in August, the 6-foot, 3-inch Mitchell had dwindled from 185 pounds before prison to 144 pounds.
"He was unrecognizable," his aunt Roxanne Adams told WKTR. "That's how bad it was. He was unrecognizable."
"I said this is not my nephew," Adams said, recalling when she saw Mitchell's body. "I asked them, 'Are you sure you have the right person?' I said this was not my nephew. [He was] probably 90 pounds and about 70 years old."
In addition to allegations about lack of food, the lawsuit argues Mitchell was often locked alone in a two-inmate cell he was rarely ever allowed to leave. Inmates added that the air-conditioned jail was often cold and that officials "denied Mitchell clothing, a mattress, a sheet and blankets." Just days before his death, Mitchell was given a bare mattress. Up until then, he was allegedly sleeping on a metal sheet and did not have shoes to walk on the cold cement floor.
Sanitary conditions in the cell were also highlighted by the lawsuit, which stated that officials cut off water inside of it. With no toilet water and a sealed door, Mitchell "was encapsulated in a cell that reeked from the stench of unflushed urine and feces."
The lawsuit is seeking some $60 million in damages and fees, as well as a jury trial.
You can share this story on social media: