Oregon, Kentucky voters get their shot at mixing up the 2016 election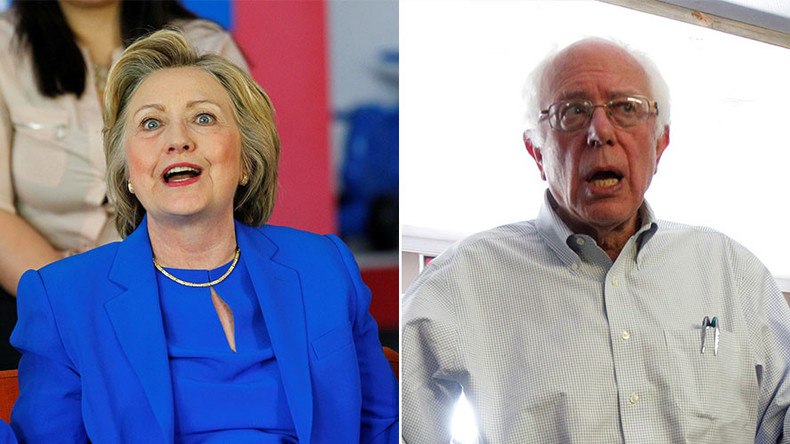 Will Bernie Sanders deliver another primary loss to Hillary Clinton as she tries to pivot to a general election matchup against Donald Trump? There are unique rules at play that mean it could happen in Oregon and Kentucky on Tuesday.
Because all Democratic primaries award delegates proportionally, it's mathematically impossible for the Vermont senator to overtake the former secretary of state's delegate lead, but the self-described democratic socialist promises to continue until the final primary ballot is cast on June 14 in Washington, DC.
On Tuesday, Oregonians and Kentuckians will decide with whom 116 Democratic delegates will side come the Democratic National Convention in Philadelphia July 25-28. That is, except for the superdelegates, party leaders and elected officials privileged with voting for whomever they personally choose.
OREGON
The Republican Party has a primary in Oregon, but not Kentucky, as that contest has already taken place. Trump won there, and there is no reason to believe he won't do the same on Tuesday, as Senator Ted Cruz of Texas and Governor John Kasich of Ohio are already out of the running. There are 28 delegates up for grabs in the GOP primary, and Trump stands to win most, if not all of them, considering the other candidates need at least 15 percent per congressional district to earn any.
Sanders has some things going for him in Oregon. According to Politico, the city of Portland has the third-most Sanders donors per-capita of any US city. The state is also mostly white, a demographic he has played well to compared to Clinton, who generally fares better with minority voters.
Clinton has an advantage of her own, however. Oregon is a closed primary, meaning only registered Democrats can participate. Feeding his "revolution," Sanders has previously tapped into non-affiliated voters to score victories in open primaries.
Oregon is the only state that automatically registers its adult residents to vote when they apply for a driver's license or ID, but it is still up to the voter to alter their registration to reflect a party label. Another kink in the Beaver State's electoral process is that it is all done by mail, whether ahead of or on the day of the primary. Ballots must be received by 8 pm Pacific Time.
Polling in the state is sparse. Local station KPTV surveyed 304 likely voters between May 6 and 9, finding 48 percent supported Clinton versus 33 percent supporting Sanders. In a similar poll, Trump enjoyed 45 percent support compared to suspended candidates Cruz and Kasich, who had 14 points each.
Polls open at 7 a.m. Pacific time and close at 8 p.m.
In Klamath Falls, the Klamath Basin Senior Center's ballot drop box was broken into over the weekend, and ballots were found in a nearby dumpster, the Klamath County Clerk said in a statement. The votes will still be counted.
KENTUCKY
The Bluegrass State is another interesting battlefield for Sanders and Clinton, where, from 6 am to 6 pm local time, exit pollsters will likely be frantically trying to determine who stands to gain the majority of the 55 delegates at stake.
Being another closed primary, Sanders will once again have to fend for himself without the help of the independents who have handed him victories before.
Sanders won the neighboring states of Indiana and West Virginia, with some analysis pointing to the "We're going to put a lot of coal miners and coal companies out of business" comment Clinton made during a March rally as a contributing factor to her loss. Kentucky is coal country too, so Sanders hopes to capitalize on that again. Clinton has won more neighboring states, however, including Illinois, Missouri, Ohio, Tennessee, and Virginia.
What makes the Kentucky primary different is its timing. Consider a March survey conducted by Public Policy Polling, a left-leaning pollster, which found that among Democratic primary voters in Kentucky, 37 percent would vote for Trump against Clinton in a hypothetical general election, while 38 percent said they would vote Trump against Sanders in a November matchup.
Since that poll was released, Trump has all but secured the Republican nomination. Will Kentuckians vote for who they think is most likely to defeat Trump?
Of Kentucky's 55 delegates, 37 are distributed by congressional district vote, 12 go to the overall state winner, and six superdelegates get to make their own choice.
Expect a close finish. NBC once reported that the Clinton campaign was in full-speed ahead general election mode, and wouldn't spent money on the primaries after April, but that prediction was reversed by the New York Times and other sources this past week, citing Clinton sources who estimated that $175,000-worth of advertising would be purchased in Kentucky in the run-up to Tuesday.
Polls open at 6 am local time and close after any voters in line at 6 pm have voted. Half of the state is in the Eastern time zone, while half is Central.