TSA Hell: Passengers in Chicago miss flights due to lines at security checkpoints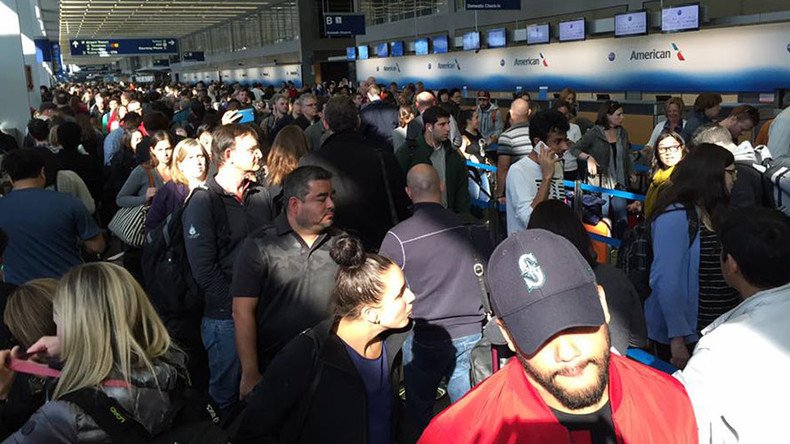 450 American Airline passengers missed their flights from Chicago's O'Hare International Airport Sunday as result of lengthy lines for security checkpoints operated by Transportation Security Administration staff.
The incident is the latest in a series of ludicrously long security lines reported at airports across the US, including Chicago's Midway, last week.
Footage of the throngs of people waiting in line there went viral after a passenger uploaded the video to YouTube.
READ MORE:'Are you f**king kidding me?': YouTube video showcases ludicrously long TSA line
Airport employees offered cots to passengers stranded overnight at O'Hare International Airport, according to Chicago's WLS-TV.
The TSA has been urging passengers to get to the airport at least two hours early for domestic flights, and three hours early for international flights. However some passengers have said that this is still not enough time to get through security and make their flight.
The TSA has blamed the long waits at security checkpoints on a shortage of screeners, due to federal budget cuts.
American Airlines will deploy its own employees to help TSA workers with non-security functions over the next week, spokesperson Leslie Scott told WLS-TV.
Airlines are also encouraging passengers to use the hashtag #iHateTheWait to vent frustrations at TSA delays.
The Department of Homeland Security, TSA's parent agency, has said it will allow more overtime and recruit more security officers to help with the congestion. TSA has also urged travelers to enroll in its Precheck program, which they claim can significantly reduce wait times – for a fee of $85-100 a year.
On the other hand, the agency responded to backlash over long waits at New York City airports last week, essentially blaming passengers for the delays and warning them to be prepared.
Homeland Security Secretary Jeh Johnson told reporters Friday that the TSA will not neglect its primary mission, which is to stop terrorists.
"Our job is to keep the American people safe, we're not going to compromise aviation security in the face of this," he said.
Other airports across the US have also been feeling the pain of long security lines.
Please note: @TSA experiencing delays in checked bag screening. Bags may miss flights from PHX. Avoid checking bags if possible.

— PHX Sky Harbor (@PHXSkyHarbor) May 12, 2016
You can share this story on social media: