Warren Buffett bites into Apple with $1 billion purchase ahead of shares' fall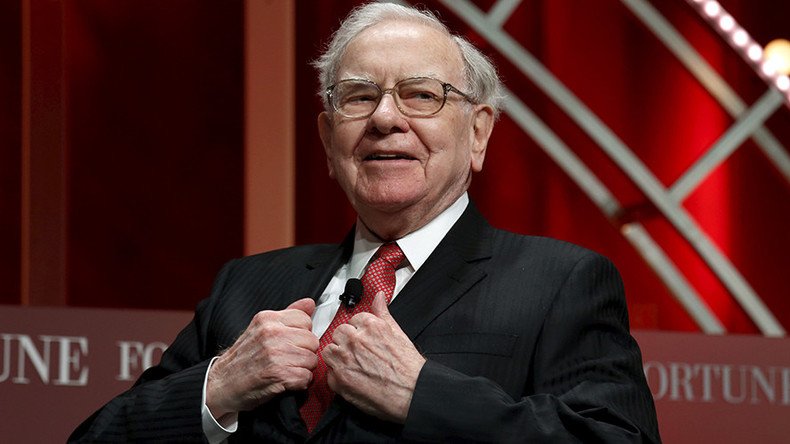 Berkshire Hathaway, the investment conglomerate run by Warren Buffett, the world's third-richest man, has just purchased nearly 10 million Apple shares for around $1.07 billion.
The move, which was disclosed in a regulatory filing on Monday, comes at a time when the price of Apple's stock has fallen its lowest point in almost two years in the wake of an April report revealing disappointing earnings.
The 9.81 million shares were acquired for an average of $109 each. Apple's price, however, has since fallen further, to about $90 per share, though it quickly shot up to $93 following the news of the billion-dollar purchase. Berkshire Hathaway's share is now worth around $900 million.
Apple's stock has dropped 12 percent since the beginning of 2016 on slowing growth in iPhone sales. Carl Icahn, another high-profile billionaire investor, disclosed last month that he had sold his entire position in Apple, citing concerns about the Chinese government meddling in its economy. Greater China, which includes Hong Kong and Taiwan, is Apple's second largest market by revenue, and the company announced just last week that it has invested $1 billion in Chinese ridesharing company Didi.
Icahn had earlier bought his own $1 billion stake in a failed bid to steer Apple into increasing dividend payouts.
Last week, Appaloosa Management, a hedge fund run by billionaire David Tepper, also sold its stake in Apple, which was valued at $133 million.
While he didn't own any Apple shares at the time, Warren Buffett echoed Icahn's sentiments in 2013 when he argued that the company was holding onto too much cash, though his suggested remedy was that the company buy back its own shares.
Berkshire's purchase is notable because the investment giant is known to steer clear of technology stocks. The company has, however, been steadily adding to its stake in IBM over the past few years, and Buffett himself was recently revealed to be backing a bid to buy Yahoo, an internet company that has been struggling in recent years.
You can share this story on social media: