US wants to use satellites against ISIS amid stalemate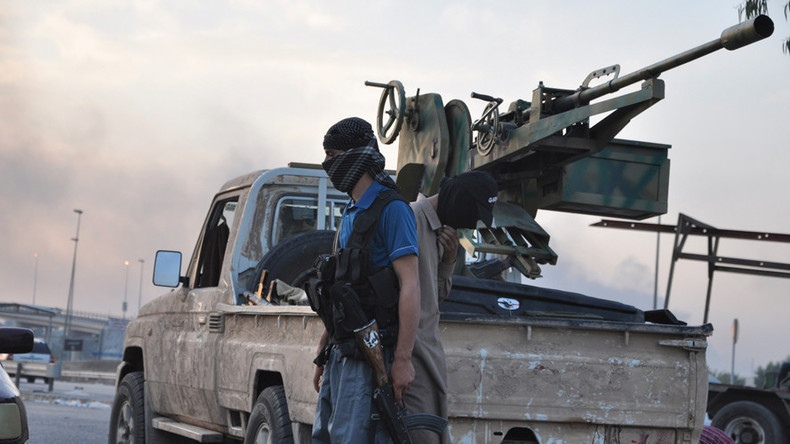 While Islamic State forces are not making any advances, neither is the US-led coalition, officials have admitted. The Pentagon wants its new, ultra-secret space operations center to join the fight against the terror group.
Islamic State (IS, formerly ISIS/ISIL or Daesh) has "not gained an inch" in Iraq, Colonel Steve Warren, spokesman for Operation Inherent Resolve, told the Pentagon press corps on Friday. "They are showing resilience… that's to be expected," Warren added. "It's a war, they're going to fight."
Referring to the state of emergency reportedly declared in the IS capital of Raqqa, in Syria, Warren said that "this enemy feels threatened, as they should."
Warren maintained that the coalition was making progress by striking IS income sources, from cash piles to oil revenue, but admitted that the Iraqi security forces or the US-backed fighters in Syria have not advanced much recently.
.@OIRSpox says about 50 percent of #Iraq's security forces are dedicated to the protection of Baghdad; will not impact #Mosul campaign

— Tara Copp (@TaraCopp) May 13, 2016
The Iraqi government has pulled "about half" of its entire security force back to Baghdad, following Thursday's bombings that killed almost 100 people in three separate incidents, Warren confirmed. He said this should not affect the plans to advance on the IS-held city of Mosul, however.
"There is no military reason to liberate Fallujah now," Warren told reporters, explaining that taking the city was not required for advancing on Mosul, and that IS was "dug in deep" there. He did acknowledge that the Iraqis may think otherwise, because the truck bombs reportedly used in Ramadi and Baghdad may have come from there.
.@OIRSpox "There is no military reason to liberate Fallujah now" There is no reason to pay attention to the Shia militia siege of Fallujah

— Michael P Pregent (@MPPregent) May 13, 2016
In Syria, the US-backed groups continued their "shoving match" with IS along what Warren called the "Mar'a line," north of Aleppo. Some of the villages in the area have changed hands dozens of times over the past several months.
"We have seen… troubling cooperation between certain opposition groups and al-Nusra," state Department spokesman John Kirby said Thursday, referring to the Islamist faction Russia and the Syrian government consider a terrorist group.
"Our message to the armed opposition with respect to al-Nusra and to any perceived or real cooperation or collusion has been, again, consistent. We have made it clear that our expectation is they won't do that," Kirby said.
Belgium will be deploying fighter jets to strike IS targets in Syria and Iraq, Warren confirmed on Friday. Six F-16 aircraft will begin airstrikes in July, the Belgian government said the same day. Belgium originally joined the coalition in 2014, but dropped out in July 2015, citing cost considerations.
Meanwhile, Defense Secretary Ash Carter is seeking to use the US military's new Joint Interagency Combined Space Operations Center (JICSpOC), a secret facility located within Schriever Air Force Base near Colorado Springs, Colorado.
"I have instructed our space community to join the fight [against Islamic State], to figure out what we can do to contribute," Carter said, after touring the facility on Thursday, according to the Washington Post.
The JICSpOC has been operating since October last year, and includes officials from the National Reconnaissance Office, which operates US spy satellites and works with intelligence agencies such as the NSA and the CIA.