'Prison slavery': Alabama inmates strike over awful conditions, unpaid work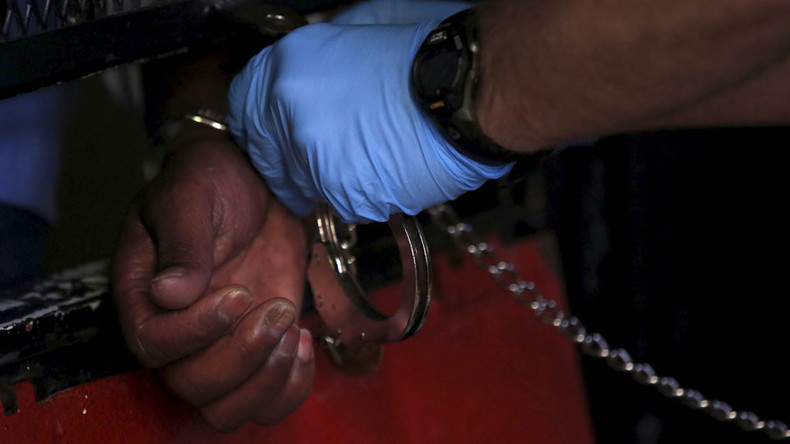 Inmates at several Alabama prisons went on strike early this month and forced lockdowns to protest what they called terrible conditions for inmates, overcrowding, and exploitative labor that they are forced to perform for free.
Prison facilities in Alabama are operating at 200 percent capacity, according to Alabama News, leading in part to the bad conditions that many inmates say they are fed up with. The strikes, which began on May 1, have shut down three different facilities in the state: Elmore Correctional Facility, Holman Correctional Facility, and Staton Correctional Facility, according to the Free Alabama Movement, an organization made up of inmates from various facilities.
The lockdown at Elmore has been lifted as of Tuesday, Mobile's WALA-TV reported, after 80 percent of the 300 striking inmates returned to work.
In various pictures uploaded by the Free Alabama Movement, prisoners claim that officers responded to the strikes by not taking out garbage, and leaving dorms and showers without being cleaned. Some pictures purportedly show showers with mold and bacteria growing on them, as well as tarps being used to stop leaky roofs.
Inmates have also reported being fed small portions of food that are inadequate for their health. One image shows a slice of bread topped by a single slice of lunchmeat, plus what appears to be a portion of mixed vegetables. Another meal consisted of "two slices of white bread, an apple, and an unrecognizable white mixture wrapped in plastic," according to The Intercept.
In their protest, prisoners are targeting habitual offender laws in Alabama, which levy longer and tougher prison terms – sometimes life without parole – for people who are convicted of more than one felony. They want lawmakers to abolish sentences of mandatory life without parole.
Repealing the state's habitual offender statue would make some 8,000 prisoners eligible for parole and ease the issue of overcrowding, the inmates stated in a document outlining their demands.
Additionally, prisoners have criticized the Thirteenth Amendment of the US Constitution, arguing that it "did not abolish slavery completely but preserved the institution for convicted people."
The Thirteenth Amendment states that, "Neither slavery nor involuntary servitude, except as a punishment for crime whereof the party shall have been duly convicted, shall exist within the United States, or any place subject to their jurisdiction."
In their demands, prisoners called for an end to unpaid labor, arguing that the practice is "hyper-exploitative, unjust and amounts to prison slavery."
At the Holman facility, inmates also asked for monetary damages for "mental pain and physical abuse" that they have already suffered.
"We hear those concerns all the time and sometimes particularly in respect to conditions, those are concerns that are in many cases valid," Department of Corrections Commissioner Jeff Dunn told WSFA when asked about the demands. "Our facilities are run down, our facilities are not in the best shape they can be. Obviously with the Alabama Prison Transformation Initiative, we are trying to address that."
That initiative is looking to shut down multiple state prisons in order to construct new, larger facilities to accommodate inmates.
According to Bob Horton of the state corrections department, the strikes began when inmates who were supposed to help prepare food for the prisoners chose not to work on May 1. Over the course of a week and a half, more inmates joined the strike.
Officials have maintained that the healthcare needs of inmates are being met, but some prisoners have objected.
"The food is a blatant violation and these violations are the reason that we even formed a strike from the start," one wrote to The Intercept. "We [are] not supposed to be fed the way they are feeding us, it is not 2300 or 2200 calories that we are suppose[d] to be getting that they have been serving us for ten days straight."
"We r weak feeling nauseated and having headaches from the lack of balanced meals."