Real-life superhero Dark Guardian tells RT: 'I have had my life threatened numerous times'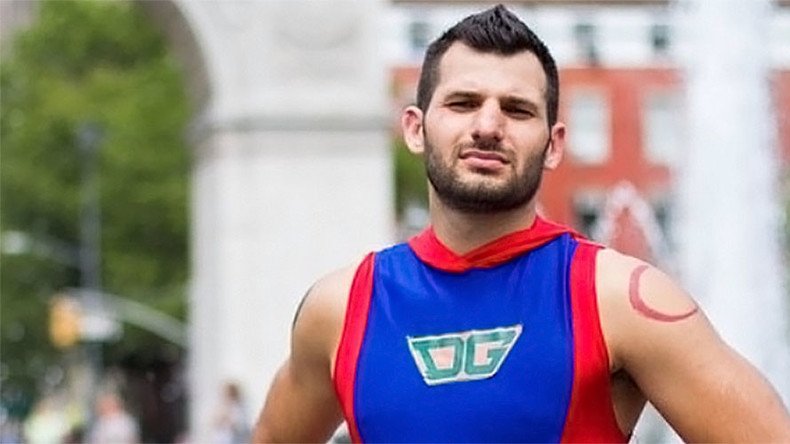 Bored of your office cubicle? Sick of punching the keyboard instead of real-life villains? A self-proclaimed New York 'superhero' is looking to expand his team and will be holding auditions this Sunday.
Thirty-one-year-old vigilante Chris Pollack, aka Dark Guardian, has been patrolling the streets of New York for several years, hassling drug dealers and preventing muggings, all while looking the part in a leather jacket and bulletproof vest.
However, he has not managed to stop all crime single-handedly.
Dark Guardian is looking to assemble a team of "heroes to help stand up and fight back against crime and apathy," and will be recruiting on May 15 in New York.
"I have had my life threatened numerous times, had a gun flashed at me, a broken bottle held up to me, thugs get in my face, and been in the middle of big fights, but I have not had to hurt anyone while out" the protector of the night bravely told RT.
State law prohibits the self-proclaimed city guardian from carrying a gun – something he says he leaves up the person who is patrolling. "Using violence and any type of lethal force is always a last resort. I don't have the option to carry one in NYC so it doesn't concern me personally," he said.
The shadow in the night instead relies on his martial arts skills and bulletproof vest if he encounters danger.
However, he said that the city is changing and the New York he protects today is "losing it's soul."
"Gentrification has good and bad. It has made some neighborhoods nicer, but has raised housing costs in certain areas thus forcing people to move into worse neighborhoods or leave NYC." he said.
He describes his relationship with the police as "ok" and despite frequently reporting information to them, he prefers to "do my own thing" when patrolling the streets.
"There is no difference if someone is a visitor, immigrant or citizen. I just see people. I help anyone in need" he said before embarking on another day of fighting crime.
The superhero advertised this week the he seeks people willing to participate in "community policing" to keep the streets of New York clean as "slashings and attacks on citizens are becoming commonplace."
Costumes aren't a must, but they do look cool.
An ability to defend yourself is probably useful for the job too.
Dark Guardian, along with some superhero friends, patrolled Greenwich Village three nights a week in 2013 after attacks on gay men, including the high-profile murder of Mark Carson by Elliot Morales.
"Violence on its own is wrong, and it's even worse when a specific group is being targeted. We care about everyone, from every walk of life, and we want to keep everybody safe," Dark Guardian said speaking to DNA Info.

Vigilante neighborhood patrols are increasing throughout the US, including New York.
The Big Apple's most infamous example is the red-bereted Guardian Angels led by Curtis Silwa.
The Howard Beach Citizen Safety Patrol has two squad cars, its own police dogs, uniforms, and a hotline.
And unlike Dark Guardian, the groups don't always defend victims of anti-LGBT violence.
An Orthodox Jewish patrol group known as the Shomrim attacked a Black man while shouting anti-gay slurs in the gentrified Brooklyn neighborhood of Williamsburg in 2013.
The victim is still waiting for justice in that case after he found out it was closed without action. It has since been reopened and five men were arrested in connection with the attack.
George Zimmerman is America's most famous vigilante after shooting and killing 17-year-old Trayvon Martin in Florida in 2012.
Zimmerman, a part-time neighborhood watch captain, claims the unarmed Black teenager was acting suspiciously.
READ MORE: 'A piece of American history': Zimmerman auctioning gun he used to kill Trayvon Martin

You can share this story on social media: